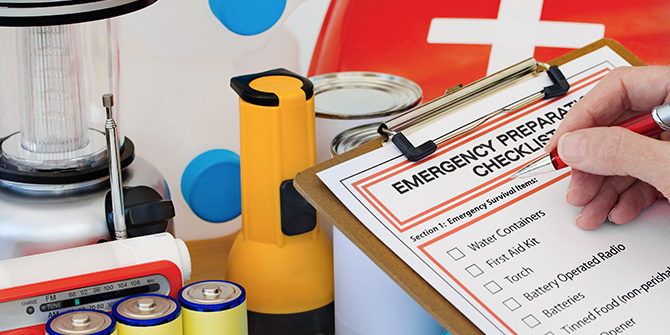 When a major storm hits, communications systems can go out and transportation can be limited. It could be a while before emergency responders are able to reach your community if you need help. Make a plan and practice it ahead of time so you're ready for any challenges you might face during extreme weather.
Make a plan and build a kit
Designate a meeting place for you and your loved ones in case you need to leave your home. Then do a dry run. In addition, determine how everyone will contact each other in the event you become separated. 
Make a "go-kit" — a collection of basic items you may need in an emergency. Kits should contain non-perishable food, water and other supplies, such as flashlights, paper maps and a battery-powered radio to last you for at least 72 hours.
Like your family plan, assemble your kit now, before an emergency strikes. If you need to evacuate quickly you'll have little time to search for the items you need to take with you. Visit Ready.gov for a complete list of items that should go in your kit.
Take inventory
Planning ahead is key when it comes to protecting important documents. Video, photograph or write down the valuables found inside and outside your home, including cars. Don't forget items such as collectibles and electronics. Note the value, model and serial number if you can. Be sure to provide your homeowners insurance company with as much information as they need in order to ensure you have the appropriate coverage for your belongings. Most insurance policies provide basic coverage for collectibles; however, additional coverage, in the form of riders, might have to be purchased to ensure they are fully insured.
Create a go-kit for important files 
Once you've created a kit for your basic needs, do the same for your important documents. Create a financial go-kit using a small safe that's durable, lockable and portable in case you need to leave your home. Inside your safe use resealable plastic bags to hold your Credit Union Safe Deposit Box key, extra cash, account numbers, photocopy of passports and/or driver's licenses and Social Security numbers.
If you've stored your computer files on a secure external drive, be sure to add that to the box, too. Adding a back-up copy of important files to your safe deposit box is another way to ensure you can access important information if you become displaced.
Stay informed with an app
Use an app for instructions on what you need to do before, during and after a hurricane. The Federal Emergency Management Agency (FEMA) app allows you to receive weather alerts for your area from the National Weather Service, find lifesaving safety tips and access disaster resources should you need them. Your local news stations may also have a similar weather alert app. Be sure to check with your carrier as data charges may apply.
A weather emergency requires you to react in a hurry. That means something important could get lost or left behind. Use these tips to get prepared in advance.
The advice provided is for informational purposes only.