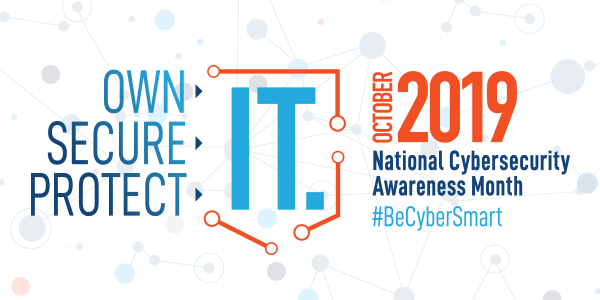 Everyday online activities like checking account balances, shopping, social networking or downloading the latest apps is a reflection of how interconnected our online lives really are.
Join LGFCU this October as we recognize National CyberSecurity Awareness Month (NCSAM) and share ways to own, secure and protect your personal data.
"In our digital lives we may face any number of issues and challenges, from cybercrime to teaching children to use the internet safely, securely and responsibly, and doing so ourselves," said Zack Hibbard, Vice President, Information Security and Enterprise Architecture at LGFCU.
Hibbard added: "Wherever we are and however we access the digital world, every step we take to improve our own cyber security will not just help to protect our privacy, but also those we connect with."
Stay informed all month
The 16th annual National Cybersecurity Awareness Month is an effort to help you "Own IT. Secure IT. Protect IT." All month we'll share tips in articles on this website and on social media to remind you how you can lock down the best ways to secure and protect your data.
LGFCU is a 2019 NCSAM Champion, joining a global effort to promote online security and device safety awareness. Join our conversations on Facebook and Twitter using #BeCyberSmart.