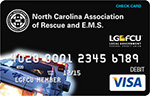 LGFCU offers a Visa® debit card exclusively for North Carolina rescue and emergency medical service (EMS) workers that gives back with every purchase.
The NCAR&EMS Visa Check Card is our way of helping the North Carolina Association of Rescue & Emergency Medical Services (NCAR&EMS) generate funds to help the people who serve our communities.
Donate while you shop
Every time you make a purchase with your card LGFCU donates 50 percent of its share of the net merchant's fee to NCAR&EMS to fund training, health insurance, pensions, disability income and scholarships.
Almost no cost to you
There's no fee to make purchases or ATM transactions and no cost for the contribution to NCAR&EMS. Just use your card as you normally would. The checking account has a low monthly maintenance fee of just $1.
Swipe it!
Your NCAR&EMS Visa Debit Card can be used at more than 1,100 CashPoints® ATMs across the state or anywhere you see the Visa logo displayed worldwide. The special design shows who you are; and family members can get their own custom card, too.
Station cards
If your station is a non-profit, it can get a dedicated station card to use for gas, food or any other station needs. These everyday purchases could generate much needed funding for the association.
Next Steps
Give back to a cause that really matters to you. Get your card now!