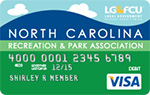 The NCRPA Visa® Check Card was created exclusively for volunteers and employees of parks and recreation departments across North Carolina. It's our way of helping NCRPA generate funds to benefit communities across the state.
This is a debit card that offers the convenience of a credit card, but operates like cash or a personal check, while giving back to the North Carolina Recreation and Park Association with every purchase.
How it works
Each time you use your card, the merchant pays a fee for that transaction. LGFCU donates 50 percent of its share of the net merchant fee to NCRPA.
Money generated by using the debit card helps fund scholarships and professional development opportunities for NCRPA members, marketing efforts for the profession, and local community projects.
How to join
Not an LGFCU member? Not a problem! Just download this voucher and bring it with $25 to your nearest branch to open a Share Account. This dividend-earning savings account is the foundation of your membership. To get your NCRPA Visa Check Card, open a no-minimum balance Checking Account, too! Find out more about joining LGFCU.
Benefits
No fees to make purchases
Free ATM transactions at the more than 1,100 CashPoints® ATMs statewide
Use your card worldwide, anywhere the Visa logo is displayed.
Checking accounts have a low monthly maintenance fee of just $1.
Next Steps
Support a cause that matters to you. Get your card today!