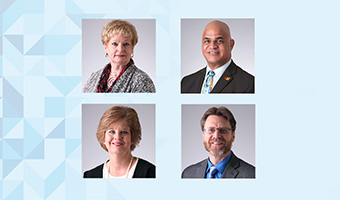 LGFCU members participated in the 2023 Annual Meeting held on March 24 in Raleigh.
At the meeting, members voted on motions and were invited to submit questions to Chief Executive Officer Dwayne Naylor. Board officers and committee chairs reported on LGFCU's performance in 2022.
Naylor and the LGFCU leadership team spoke on the state of the Credit Union, celebrating its 40 years of success and growth. In 2022, LGFCU membership surpassed 400,000 people and assets grew to $3.6 billion.
Naylor also recognized the service of the more than 600 members of its Advisory Council.
"LGFCU was chartered 40 years ago today," he said, "to serve the local government employees and volunteers within our state, and their families. By tapping into the strengths and talents of our membership base, together we've created an extraordinary Credit Union that has helped build the quality of life in North Carolina."
Board members elected to serve
As part of the meeting, members voted to re-elect Ruth Barnes of Atlantic Beach, Jeanne Erwin of Cary and Ken Noland of Wilkesboro for three-year terms on the LGFCU Board of Directors, and Tony Brown of Halifax County for a two-year term.
View the recorded version of the Annual Meeting, and read more about LGFCU's impact on members and communities in the 2022 LGFCU Annual Report.