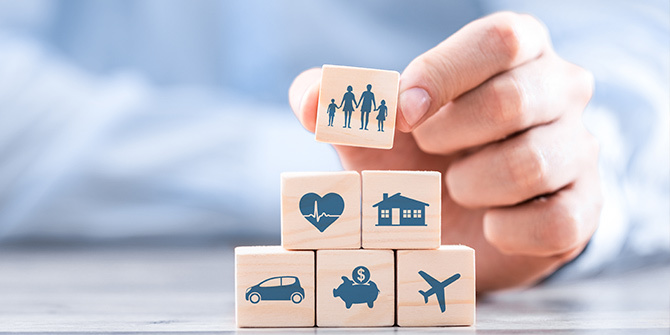 If you can't remember when you last reviewed your auto, home and life insurance policies, it's time to schedule an annual checkup to determine if you need to make changes or if there's a cost savings available.
Understand your auto insurance coverage
Check to see if you're over- or under-insured on your auto insurance. Auto insurance has three parts — liability, collision and comprehensive. Liability is the most important and is required coverage in North Carolina. In the event of an accident, liability coverage protects you if you're at fault, if you or someone else is hurt, or property is damaged. Minimum liability amounts may not be enough if you're involved in a serious accident, so consider buying more.
Collision and comprehensive insurance are both optional coverages, but can be good preventive measures. Without these added coverages, you could drain your savings trying to cover damages to your car. If you were to damage or total your car in an accident, collision coverage helps you pay for needed repairs or a vehicle replacement. Comprehensive coverage helps pay for damage caused by circumstances like auto theft or car fire.
If you're worried about your ability to pay for comprehensive and collision coverage, shop around. In addition, you can potentially save on your premiums by raising your deductibles rather than reducing coverage. But make sure you can pay the higher deductibles if necessary. Another good reason to review is to see if there are options for cost savings.
If you've added a car alarm or park in a garage at home, you could save big on auto insurance coverage. Other triggers include life events such as a change in marital status; change in living arrangements; addition/deletion of a teen driver; or if you've bought or sold a car. Of course, policy renewal time is a great opportunity to review your coverage needs.
Check on your homeowners insurance
Knowing your home and valuables are covered if disaster strikes means less worry about replacing what was lost. Keep in mind, the cost to replace your home today could be more than the original purchase price. You may be better off if your homeowners policy provides replacement cost of the structure rather than actual cash value.
Consider a separate rider to cover expensive items and other valuables that exceed the basic policy coverage. Again, make sure you can afford the premiums on such a robust policy.
Keep life insurance coverage current
Is your current coverage enough to meet your family's needs in the event of your death? Generally, the more dependents you have, the more life insurance you need. On the other hand, if your children are grown, you may no longer need to carry as much coverage. It's best to review the policy whenever you have a life event to determine the need for updates.
When you're ready to review any of your insurance policies, LGFCU can help. If you're a member, you can get a no-cost home and auto insurance quote or life insurance quote.
The advice provided is for informational purposes only.
TruStage® insurance products and programs are made available through TruStage Insurance Agency LLC. Auto and home products are issued by leading insurance companies. Discounts are not available in all states and discounts vary by state. Life insurance and AD&D insurance are issued by CMFG Life Insurance Company. These insurance products are not deposits and are not federally insured. This coverage is not sold or guaranteed by your Credit Union.