Stay connected with your money from anywhere at any time with Member Connect.
Use Member Connect to pay bills, transfer and wire funds, check balances, view images of your checks, order new checks, send secure email, apply for loans and more. LGFCU does not charge a fee to use any of these services from Member Connect.
Enroll in Member Connect
Step 1: Visit the Member Connect online form.
Step 2: Enter your 16-digit ATM/Debit Card number as your User ID. You will be able to create a new and unique User ID once you are enrolled.
Step 3: Enter your three-digit 24-Hour Voice Response Service PIN. You will be asked to choose a new password.
Member Connect on your smartphone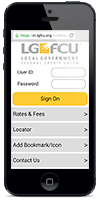 While LGFCU does not have a mobile app, Member Connect is available for all Web-enabled mobile phones and tablets. From our mobile-friendly version of Member Connect you can:
View account balances, recent activity and posted transactions
Transfer funds between accounts
Pay bills to established payees
View current loan and deposit rates
Find the nearest branch or ATM location
Know that your information is safe even if you lose your phone; no personal account information is stored on your phone
LGFCU doesn't charge a fee to access Member Connect or our full website via mobile but your mobile provider may.
Experiencing problems?
If you have difficulty signing on to Member Connect or have forgotten your security questions, call the Contact Center at 888.732.8562. You can also reset your password online.
Video tutorials
Want step-by-step instructions to learn how to use some of the features in Member Connect? Visit our video library to get started.
Nightly system maintenance
There is a brief processing period every night between 2:00 and 5:00 a.m. ET during which our files are being updated and some portions of Member Connect will not be available. Please be aware that during peak time periods, such as month-end, access to some portions of Member Connect may experience a delay.
Enjoy viewing your accounts online
For the best experience using Member Connect on a desktop computer, the site is best viewed on a display set to 1024x768. This site supports the following browsers:
Windows 7 or higher
Internet Explorer (IE) 8+
Mozilla Firefox 3.0
Macintosh OS 10.3 or higher
Safari 1.3.2
Mozilla Firefox 2.0
Next Steps
Choose a way to start accessing your accounts online.