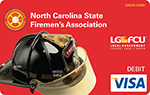 A debit card created exclusively for North Carolina firefighters! It's LGFCU's way of helping the North Carolina State Firemen's Association (NCSFA) generate funds to help the men and women who serve and improve our communities.
How it works
Each time you use your NCSFA Visa® Check Card, LGFCU donates 50 percent of its share of the net merchant's fee directly to programs sponsored by NCSFA. This provides the NCSFA with extra money for training, health insurance, pension, disability income and scholarships to fund the programs that support firefighters and their families.
Benefits
No fees to make purchases
Free ATM transactions at the more than 1,100 CashPoints® ATMs statewide
Use your card worldwide, anywhere the Visa logo is displayed.
Checking accounts have a low monthly maintenance fee of just $1.
Next Steps
Support a cause that matters to you. Get your card today!