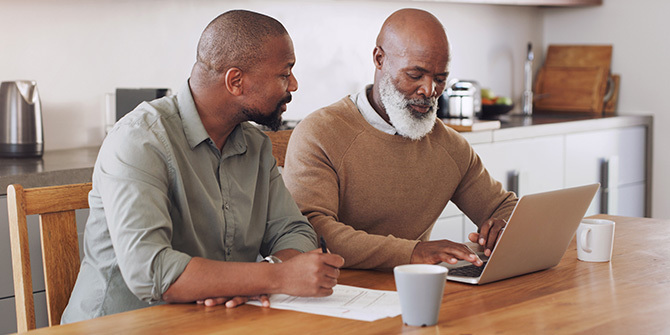 Older adults are at high risk of being taken in by fraudulent activity. Your loved ones could be tricked into buying products they don't need, or using services or donating to charities that don't fit their lifestyle. But there are steps you can take to help protect the older adults in your life against fraud.
What is elderly financial exploitation?
Financial abuse of older adults is a deliberate effort to deceive with promises of or theft of goods, services or financial benefits that don't exist, were never intended to be provided, or were misrepresented.
How do you stop someone from taking advantage of the elderly?
While you're visiting, identify and explain how to avoid common scams whether they happen in person or online. Also encourage your loved ones to ignore unsolicited requests for money and to keep their personal information private (e.g., Social Security numbers, checking and savings account numbers, passwords, etc.).
You can help reduce the risk of older adult tax fraud by adding a free Identity Protection PIN (IP PIN) from the IRS. This personalized six-digit PIN is intended to help prevent the misuse of Social Security numbers on fraudulent federal income tax returns.
Cut down on fake sweepstakes offers by reducing the amount of junk mail/email received. Add your parents' names to an online opt-out list as well as adding their phone number to the National Do Not Call Registry to prevent unwanted callers from potentially luring them into handing over savings.
Encourage your loved ones to save all receipts. Spend a few minutes together going over account statements each month. Report unauthorized transactions immediately. Once all receipts have been reconciled against statements, shred all unneeded documents to reduce the risk of a stolen identity. Take advantage of LGFCU's free shred events to make it easier to safely destroy personal documents.
LGFCU, other reputable financial institutions, and government offices, will not ask for personal details by phone or email.
How do you deal with elder financial abuse?
You'll want to monitor and protect financial accounts. Plan ahead with your loved ones to protect their assets. Start by becoming a joint account holder. This way you can periodically log in to Member Connect to check for unusual transactions. Also, introduce your loved ones to local branch staff. An employee familiar with their patterns may be able to spot suspicious activity faster.
Next, ensure your loved ones' estate is in order. Make an appointment at your local branch to get help with our Estate Planning Essentials Program. You'll be connected with a local attorney who can help your older adults create a will, a health care power of attorney and a legal power of attorney. Naming you as the legal go-to person would allow you, someone they know and trust, to step in if your loved ones are unable to handle their affairs.
If you or someone you know has been scammed, file a complaint with the N.C. Attorney General's Consumer Protection Division online or by calling 877.5.NO.SCAM (877.566.7226).
The advice provided is for informational purposes only.