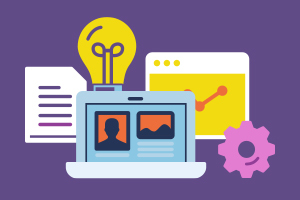 Join LGFCU on January 28 in recognizing Data Privacy Day, an international effort to create awareness about the importance of privacy and protection of personal information.
This year's theme, "A new era of privacy," is meant to encourage you to better manage your privacy, how your data is collected and how it's shared. It's important to remember that personal information is like money: value it, protect it.
A new era in privacy
The technology landscape is rapidly changing and forging a new era in privacy. Data about you can be used in a variety of ways, sometimes in ways you wouldn't expect or even approve.
When you use your connected devices, like wearables, speakers, cameras, TVs, cars, toys and appliances, you are continuously generating information about yourself and others. This abundance of data can be stolen by thieves or used in negative ways. That's why it's important to understand the value of your personal information and how to protect it whenever possible.
"We encourage members to think about how their personal information is being used, collected or shared in our digital world," said Zack Hibbard, LGFCU Vice President, Information Security and Network Services. "Use Data Privacy Day as a starting point to be more privacy-aware. Decide how and if you want your personal information collected, stored and shared. It's important to protect your personal data every day." 
LGFCU is a 2019 Champion of Data Privacy Day, joining a global effort to promote greater privacy awareness and education. Use #PrivacyAware to join the conversation about data privacy on Facebook and Twitter.