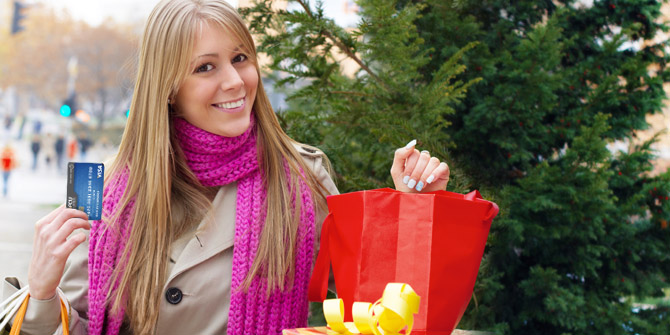 The holiday shopping season is full of cheer, which means many of us instinctively reach for the credit cards to cover everything from buying gifts to booking travel. Credit cards are an easy way to pay for what you want in an instant regardless of whether you're traveling to the next county or country. Wherever you are spending your holiday vacation, here are five tips to help protect your credit card (and personal information) and keep identity theft from dashing your holiday spirit.
1. Lighten up your wallet; opt for cards over cash
Don't carry large amounts of cash — use a debit or credit card instead. Even then take only the cards you really need, such as a primary and back up card. If you are carrying folded money, divide the bills, keeping some in your wallet and some in other places on your body (i.e. money belt) to limit your loss, should a wallet become lost or stolen.
2. Use a card for protection and control
Credit cards are a good option for paying for purchases because they allow you to seek a refund from the issuer if problems occur if your card is lost or stolen.  
If you're worried about traveling with your personal cards or carrying a lot of currency in a foreign country, consider a controlled spending card. LGFCU's CashPoints® Global (CPG) is a non-dividend bearing, demand deposit account that's perfect for traveling. Money is only accessible electronically by using a CashPoints Global card.
Funds can be loaded in advance (and reloaded anytime) and the card can be used anywhere you see the Visa® logo. The card is also a great way to ensure you don't spend all of your money on souvenirs.
All CPG transactions are limited to the available funds in the account and there are no overdraft or non-sufficient fees. If funds are not available in the CPG account, the transaction is simply declined.
3. Never leave your card unattended
It seems like the very definition of holiday is busy. Add travel on top of that and you've got a lot to think about. But be aware that your credit card is targeted more during this time of year than any other time. Never let your card out of your sight. While you likely have limited liability for charges on a stolen credit card, dealing with the outcome can dampen your holiday plans.
4. Look out for ATM skimming scams
When traveling across North Carolina, there is no shortage of CashPoints ATMs. Use our ATM/Branch locator for one closest to you or in the areas where you'll be traveling.
Whether you're near home or abroad, look closely at the machine to ensure your card information isn't being recorded as part of an ATM scam, called skimming. With card skimming, the data from your card's magnetic strip is illegally copied. Thieves use this information to steal your information and access your accounts.
Be extra cautious while away from your home base. Make sure there are no other devices on or near the card reader or keypad as skimmers use fraudulent external devices that cover the ATM's true readers and keypads. Use your hand to cover up your password while you type it into the machine, in case the thieves have installed a hidden camera.
5. Check your account statements
Upon returning from (or even during) your vacation, review your credit and/or debit card purchases and ATM withdrawals and see if they match up with your receipts you've kept. If you've been a victim of identity theft related to your credit or debit card, alert LGFCU right away by calling 888.732.8562 toll free.
Knowing your personal data is safe while on vacation will help make your holiday trip a little merrier.