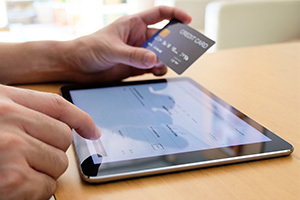 When the online holiday shopping season ramps up, so do criminals' attempts to steal your credit or debit card data. The pandemic has increased the interest in online shopping and extended the buying season. So, watch out for these three online scams: account takeovers, curbside pickup fraud and e-gift card schemes.
Protect your cards when shopping online
Financial or retail account takeovers happen when an unauthorized user accesses your account. The thief may take over payment methods or reward points stored in the account.
Reduce the chances of online fraud and do not store your card in a retail site. That's where thieves look for your data. Instead, use a mobile wallet app or look for the Visa Secure badge at online merchants when shopping. Mobile wallets replace your actual card number during checkout with a one-time-use number which keeps you safer. For added protection, sign up for our security alerts to be notified immediately about any high-risk transaction.
E-gift card schemes are bolder
In a new take on electronic gift card (e-gift card) fraud, thieves use stolen credit card data to buy gift cards in bulk or to break into retail systems to steal batches of gift card numbers.
Make sure you're the only one benefitting from the gift. Register the card as soon as you receive it. Change the PIN and try to use the card right away. This way a scammer has limited opportunities to steal your gift card number from a retailer's system. Also, if you haven't used your e-gift card, but notice your card balance is zero, contact the card issuer immediately.
Use timeless methods to stay safe online
These tips can help you have a safe, online shopping experience anytime:
Create unique, strong passwords across online retail sites.
Enable two-factor authentication (2FA) when available. 2FA is one of the most effective ways to reduce the likelihood of account takeover. 2FA requires an extra step before checking out but offers an extra layer of protection. A fraudster is unlikely to have access to both your password and your device.
Use a password manager app. It not only securely stores your passwords, but may also autofill store discount codes.
Be aware of phishing attempts via fake apps, emails and websites.
Keep your device firewalls, antivirus software and web browsers up to date, to help protect against online threats.
These types of attempts to steal your financial information will likely continue. Stay extra vigilant during the holidays and remember LGFCU is a phone call away. If you suspect you are victim of account fraud, call us at 888.732.8562.