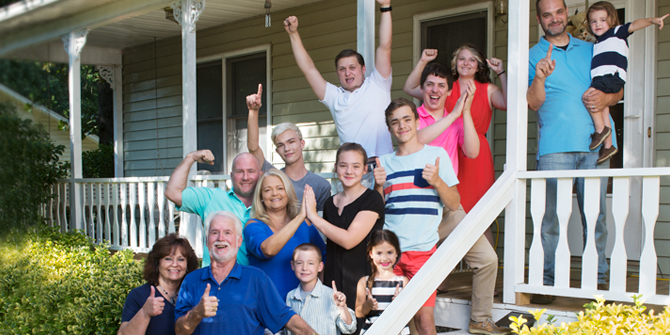 Joe S. has spent almost half his life as an LGFCU member. More than 30 years ago, he walked into a small storefront branch and opened a Share Account. Five children, 10 grandchildren, 18 cars, two houses and countless trips to the ATM later, Joe is a Credit Union member for life — a point of pride that's evident when he talks about how LGFCU has kept him and his family on solid financial ground over the last three decades.
"I wanted to belong to LGFCU. I'd dealt with other banks before and I felt like I was just another account number," Joe said. "I started with savings, then checking, then homes and cars. It's been an absolute pleasure ever since."
'We've got you covered'
Joe's Credit Union loyalty is built on numerous stories of personal financial service. He recalled the time he and his wife wanted to buy a house across the street that was up for sale as part of a bank auction. As Davidson County's tax administrator at the time, he knew the house was valued at $110,000. Next, he called the Credit Union to see if he would be approved for a mortgage.
"I said, 'Can I bid on this house? You can look at what I have in my checking and savings accounts, and see I've got some money.' They told me, 'If you bid up to $100,000 we've got you covered.' That's what the Credit Union thinks of me: 'We've got you covered.'"
He lost the bid on the house but found his financial relationship with LGFCU growing stronger. Over the years, Joe and his wife, Beth, have financed two homes with LGFCU. Their first mortgage covered a home in the mountains. Later, another mortgage bought their current home in Lexington where they raised their children.
Even when Joe wasn't sure he'd need a financial cushion, he planned for an emergency with a Home Equity Line of Credit (HELOC).
"Having an open line of credit made it easy to handle unexpected expenses. I could call and say, 'Can you move X amount of money into my checking account?' It was done quickly," he explained.
In addition to the homes, Joe and his family have purchased more than 18 vehicles with either an LGFCU new car loan or used auto loan.
"One of the things I liked about joining the Credit Union is that I could go to my local branch and say, 'I'm looking for a car and I may have to go to Greensboro, or I may have to go to Asheville.' Every time, my Credit Union branch in Lexington would call the other branch and say, 'If [Joe] comes in, work with him. Finance his car.' At the next branch, they would say, 'We've been expecting you,'" Joe said.
Benefits of membership
A proud member of LGFCU, Joe has encouraged his family, fellow church members and co-workers to join. Years before he retired from Davidson County, he met a young, single mother who had just started working in his department. She was struggling financially.
"I took her to the Credit Union and paid the $25 for her to join. I helped her get signed up with direct deposit at work so some of her paycheck could go into savings. It enabled her to start saving some money. Since that time, she has had two cars and a house," Joe said.
Convincing his wife and children to join the Credit Union was even easier.
"They joined because LGFCU is the right place to be. They can see how well the Credit Union has treated me over the years," Joe explained.
With locations in every county, it's easy for Joe to see why LGFCU has been ranked by Forbes as the No. 1 Credit Union in North Carolina in 2018 and 2019.
"I could've told them that 32 years ago. You treat me like I'm number one all the time," he said.
LGFCU ranked among America's Best-In-State Banks and Credit Unions, based on an independent online survey of more than 25,000 bank customers and credit union members spread across the United States. Participants evaluated their financial institutions on general satisfaction and recommendation, as well as trust; terms and conditions; branch services; digital services; and financial advice.
Talk to Joe about money and trust, and he'll tell you he's got "absolute trust in LGFCU," a sentiment based on experience. He said he appreciates the clear language found in the Credit Union's account terms and conditions.
After 27 years in the county tax department, Joe has kicked off his retirement spending time with family, playing golf and continuing to share the Credit Union message with others.
"There is nothing that I get out of this. It's just knowing that if they join they'll be taken care of," Joe said.
The advice provided is for informational purposes only.