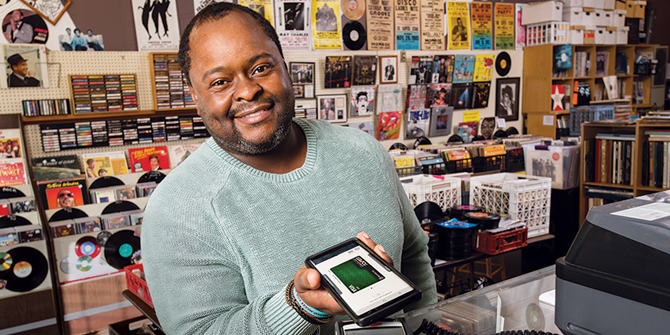 Most people go through a mental checklist before they leave the house: Is the stove turned off? Do I have my wallet, my keys and my cell phone? Today, your phone is a must-have item since there's very little you can't do with it — especially when it comes to managing your money. From checking your accounts, to online shopping, to paying bills, your smartphone gives you access to many digital tools to help you stay on top of your finances while on the go.
Make purchases with your LGFCU cards from any smartphone
When LGFCU first introduced mobile payment apps, member Franco M. loaded his Visa® Check Card into the Samsung Pay app and never looked back. "It's the best thing I ever did. I love it," said Franco.
Mobile payment apps like Samsung Pay, Apple Pay®, Microsoft Wallet (also known as Microsoft Pay in Windows 10 devices) or Android Pay™, allow you to add your LGFCU Visa® Credit or Check Card, or another card to your phone. Doing so turns your phone into a mobile wallet. Thanks to digital payment technologies, you can leave your wallet at home and use your phone to buy groceries at the supermarket or even order new shoes online for the kids.
Franco said he doesn't like carrying his wallet. Instead he has stored his card on his phone, which he always carries. "With Samsung Pay, my cards are in one place. They're always with me. I can pay with the tap of a button. I use Samsung Pay wherever I can," Franco said.
Plus, he said using the app is faster than paying with a card for the things he needs. Further, Franco said he's confident his personal data is safe. Mobile wallets use technology called Near-Field Communication (NFC) that allow you to make purchases by tapping or waving your phone at a checkout terminal.
Generally, the apps use either encryption or protected code to reduce the threat to your personal data. Your private information is never stored on retailers' terminals. Remember if you're not using Wi-Fi, check with your carrier in case data charges apply.
And, depending on your choice of phone you can have two wallet apps. No matter which wallet you choose, you'll always have a ready-made way to pay in-store or in-app.
Watch our Apple Pay video, Samsung Pay video or Android Pay video to get started using mobile payments. In less than 60 seconds you'll be ready to tap, pay and go!
You can also add your credit or debit card to a Visa Checkout account. When checking out online, you'll no longer need to type in your card information. Just create an account and store your debit or credit card details there. Then skip the forms and securely speed through online checkout wherever you see the Visa Checkout button.
Your always-on, 24/7 access
Your phone is also your key to accessing your LGFCU accounts without a computer. Log in to Member Connect to check your balance and transaction history, pay bills or see if a bill has already cleared from your phone, day or night.
Rather than looking for your paper statement every month, view your transactions while waiting for a bus or a takeout order. Later, when you're ready to balance your account, you can view your e-statement. You'll get the same information you would with a paper statement. With an e-statement you can choose your statement cutoff date to fit your budgeting needs. Plus, when you sign up for notifications, the Credit Union will send a text message to your mobile device when your statement is available.
In general, with alerts you'll always know what your money is doing — even when you're not looking. For example, with debit card alerts, LGFCU can send a text to your phone, giving you time to act on questionable transactions.
The convenience of digital banking may also help keep you from making costly mistakes. Not sure you have enough money in your primary account to cover a purchase? Log in to move money while in the checkout line to pay for what you need and avoid non-sufficient funds fees.
Digital banking can make it easier than ever to manage your finances and prevent problems before they turn into big issues.
Knowing your account is secure
Manage your money on the go and feel safe knowing your account is secure! LGFCU uses the strongest recommended encryption solution provided by industry security experts. This level of encryption protects your data and makes it difficult to be understood by anyone except authorized parties.
New-age convenience, top-level security and blissful peace of mind are all available from your pocket, anywhere you are, anytime you need access.
The advice provided is for informational purposes only.