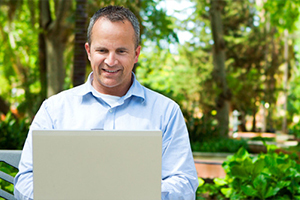 When you're thinking about ways you can help conserve our planet's natural resources, you'll find that many of the same tips can also save you a lot of money.
Save gas and reduce emissions
Managing your accounts online with Member Connect is one way to go green. Check your balance, transfer funds, pay bills, apply for loans and more — no matter what time of day —  without having to use gas to drive to a branch. Be sure to access your accounts using a secure internet connection. If using a mobile phone or tablet for online banking, remember to check with your service provider because data fees may apply.  
Save a tree, reduce administrative costs
Eliminate paper waste when you switch to E-Statements. They're an easy way to use less paper, and keep your information organized and safe. You'll also save your Credit Union printing and mailing costs. When the Credit Union saves money, all its member-owners win!
Save money and save the earth
There are a number of changes you can make in your regular routine that are not only good for the earth, but also good for your wallet!
Get more "me time" back in your life. Members receive the first 50 BillPay and/or check transactions per month as complimentary, with a 20-cent charge for each additional item.
Plus, you'll save money on stamps and fuel by skipping the trip to the post office. And you can enjoy the convenience of paying your bills at 1 a.m. in your pajamas on your sofa or at 1 p.m. from your desk at work. Not to mention, you help conserve the earth's resources by using less paper.
Go one step further when reducing your use of paper. If your employer offers it, sign up for Direct Deposit and online viewing of your pay stubs. Direct Deposit ensures your income goes directly to your account quickly and easily. Save yourself a trip to the branch — another great way to save on gas — and eliminate the wait for a live check.
Why wait until Earth Day to think about going green? Start now and see how much more green you can keep in your pocket every month.