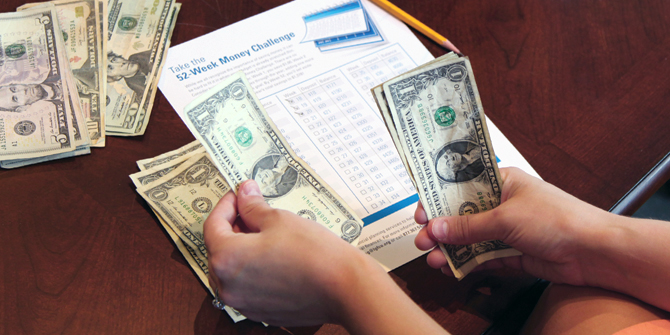 There's something about summer that makes it easy to give in to spending temptation. And if you've been keeping up with your 52-Week Challenge, you may be thinking about dipping into your savings "just this once" to help cover seasonal expenses. Here are some tips for keeping your head in the savings game when summer fun tries to lure you into spending more.
Make a vacation spending plan
Away from your daily routine, it can be easy to let vacation spending get out of hand, but you can still make great memories without overspending. Create a vacation budget before you go to minimize last-minute splurges, and make a meal plan if there's a kitchen where you're staying so you can make your own meals. Just say "no" to pricey souvenirs in favor of pictures to put in a scrapbook later to commemorate the occasion, and make sure to check with membership organizations you belong to like AARP and AAA for discounts in the area where you're headed.
Attend weddings with help from your friends
From airfare and hotel to gifts and clothing, the costs of being a wedding guest can add up quickly. Don't go it alone! Collaborate with friends who are also attending to travel together and share a hotel room, go in on one big present for the happy couple and even swap dresses so you get a new-to-you dress at no cost. Other ways to keep your costs low include searching for a less expensive hotel nearby and hitting your local consignment shop for high-end clothes at a low price. 
Spend time in your backyard, not money
The time between "pollen allergies" and "too-hot-to-go-outside" is cookout season in North Carolina. Nothing goes better with a warm sunny evening than friends, burgers, hot dogs, slaw, potato salad and maybe some new colorful dishes… If you're looking to impress your friends as the host with the most, spending money isn't the key. Visit a dollar store for napkins, cups and plates and ask friends and neighbors to bring extra chairs or tables rather than buying them. Focus on enjoying time with your guests to make it a night they'll never forget.
Remember when it comes to seasonal spending, more money rarely equals better memories and more fun. Don't get burned this summer by getting off-track with your spending and saving. Keep contributing to your 52-Week Challenge, or start one today if you haven't yet! It's never too late to save.
The advice provided is for informational purposes only. Contact a financial advisor for additional guidance.