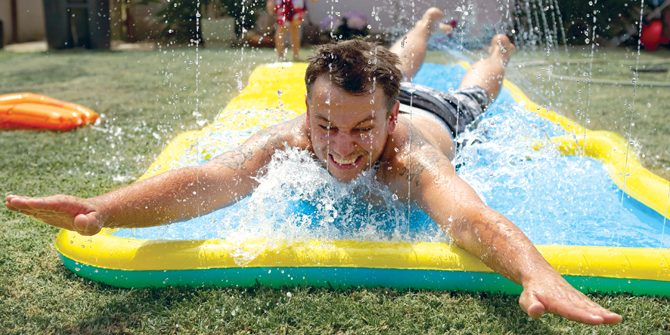 You've been watching your friends' Facebook posts and Twitter feeds as they plan their summer getaways. You may be wondering where you'll go and if you have enough money saved to pay for a vacation this year. Let's look at some ways to figure it out.
Plan ahead
Before booking your trip, do a little advanced planning to decide just how much and what kind of vacation your budget will allow. If you have a destination in mind, start by identifying what expenses need to be covered.
Typically, you need to consider:
Transportation – plane, train or automobile?
Lodging – hotel, RV or tent?
Activities – dining, park fees or other entertainment?
Compare your options. If flying is too costly, is driving cheaper? How much would gas cost? If your car won't survive a road trip, how much will it cost to rent one? If hotel costs are high and you like nature, consider camping. Think about the sites you want to visit and if there are added costs to consider. For example, a trip to a big theme park means park fees, souvenirs and food. Think about how you can keep costs down. Try packing lunches or snacks instead of buying food inside the park if possible.
Also, consider your timeframe. If your schedule is flexible, you may be able to find deals that could save a little in your budget. There could be cheaper lodging or special airfares during non-peak times.
Once you know how much your vacation will cost, check your savings account to see how much you've saved and how far you still need to go. If you still have time to save before your fun begins, that's great! If not, review your plans and see what changes you can make.
Vacation at home
If you don't have enough saved for your destination vacation — or if you simply prefer to stay local, you can still end up with a camera phone full of memories. Staying home, or even close to home, can save you time and money, yet still, offer the break you seek. When planning these trips, consider transportation, local lodging and activity costs to plan a great "staycation." Here are a few suggestions:
Where to go. Like strawberries? What about blues music? From rhododendrons to cantaloupes, many cities and towns celebrate their local heritage with festivals and parades. Start with the state tourism bureau at VisitNC.com to find area events.
Free or low-cost entertainment. Many NC festivals and fairs offer free or low-cost admission. Leave room in your budget to take home a bushel or a basket. In addition to local events, a number of state museums and attractions are free or offer discounted rates. Or go to an amusement park; visit your local branch for discounted theme park tickets!
Take a drive. Stay close to home and forget about the cost of airfare or train rides. Instead, take advantage of low gas prices and plan a day trip in the car to new sites around your town.
Try new foods. Visit a few local restaurants. Since you're near home, you can save money by taking advantage of early bird lunch or dinner specials. You may just discover a new dish.
Literally, stay home. This could be the time you use to unwind from the workweek grind, tidy your yard, relax with a good book or two, or revisit your hobbies. Invite family or friends over for a potluck in the backyard if you want company. 
Whether you're dreaming about a special trip or just want to spend a week at home, visit your local branch for help creating a spending plan for your next getaway.
Get ready for your next trip
Set up a separate vacation savings account such as a Holiday Cash Club account. Contribute money using direct deposit or automatic funds transfer.
Use an online money management service like Compass to set up a budget and track your progress.
Raise cash by selling unwanted items online or at a local or countywide yard sale then add that to your savings.
The advice provided is for informational purposes only.