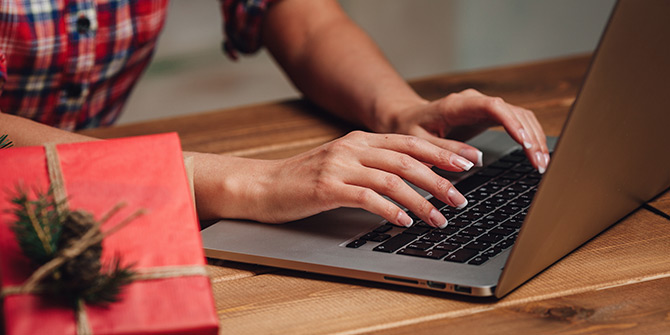 It's easy to find yourself spending too much money during the holidays. In fact, on average last year, Americans packed on more than $1,000 each in holiday debt, according to a recent report. Here's how to reach everyone on your gift list and still enjoy a debt-free holiday.
Create a budget
A holiday budget can help you avoid debt later. Make a list of everyone you plan to shop for and how much you plan to spend on each person. Your holiday budget should factor in everything including food for entertaining, office parties, candy, decorations, wrapping paper, cards and postage, if necessary.
After you have a good estimate of how much you'll need to set aside for gifts, you can look at how much you'll earn between now and the holidays. From there, calculate how much you can save to cover your holiday spending. Being realistic about your budget can help make sure you don't overspend.
Choose your preferred payment method
Paying with cash has the advantage of helping you avoid spending money you don't have. But if your holiday cash is lost or stolen, it's not replaceable. As such, you may prefer to use a card.
If you do decide to put holiday purchases on a credit card, make sure you have a specific plan to pay your credit card bill when it arrives, and have enough set aside in your budget to do so.
Alternately, add a fixed amount of money to a pre-paid account like LGFCU's CashPoints® Global (CPG). This account gives you the convenience of a debit card with the same benefits of paying with cash. You can only spend what you've pre-loaded. Even better, if you've been saving all year, you can add your Holiday Cash Club Account funds directly to your CPG card.
No matter what type of LGFCU "cash" you use, you won't have to worry about how to pay an extra bill in the new year.
Don't shop at the last minute
Get an early start so you'll have time to visit several stores, compare prices with online retailers, and take advantage of sales, coupons and free shipping, where available. These days retail analysts have dubbed the entire eleventh month "Black November," so there could be deals to snare all month.
Even if you wait until the end of November, Black Friday and Cyber Monday shopping could net great last-minute deals, but it's best to stay focused. The temptation to get a deal could lead to excess spending, which could mean more debt.
Once your spending plan is set, you can keep track of how well you're doing with a budgeting app. It's easier to see all of your accounts in one place and adjust your budget as necessary. 
Keep these tips in mind and you'll enjoy a more affordable holiday season.
The advice provided is for informational purposes only.