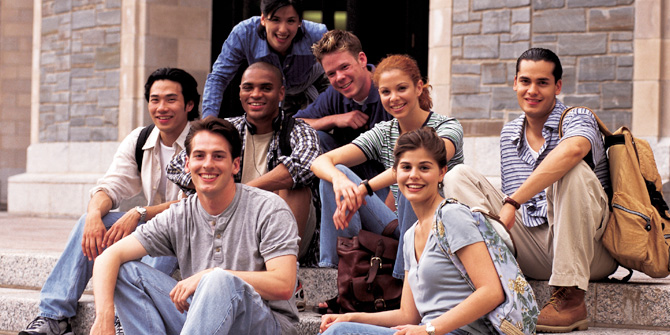 College comes with new experiences, friends and increased freedom. The college years also come with increased responsibilities like money management. From textbooks and tuition to pizza and parking, the costs associated with college add up quickly. So how do college students manage their financial health? Whether you're just beginning college, a returning student, or you have a child entering college, consider these strategies to save money and manage finances.
Save money on textbooks by buying used or renting
While convenient, the campus bookstore may not offer the best deal on textbooks. According to the College Board, the annual cost of new books and materials is $1,168 per student. In order to save money, consider buying or renting gently used books from websites, such as Amazon, eBay and Chegg, where books can possibly cost half the price of those at the campus store. A number of these online retailers even offer to buy back books at the end of the semester.
Spend less on daily food and drink purchases
Eating out every day can affect your bottom line — in more ways than one. Daily purchases of items like food, drinks and coffee add up quickly. It may not seem like much, but $5 a day can add up to $700 during the school year. One way to save money is to pack the items you regularly buy. Before leaving your apartment or dorm room, pack a lunch, snacks or a refillable water bottle. You can also save money on coffee by brewing your own and carrying it in a reusable coffee mug. These little changes can turn into big savings.
Keep an eye on your money with online budgeting tools
Late night pizza runs and online shopping sprees can easily wreak havoc on your wallet. Track expenses and see where you spend the most money. Set a limit to what you will spend – and stick to it. Take advantage of a budgeting app that makes it easier to budget and track spending online or on a smartphone. Seeing where your money is going can help you make better planning and budgeting decisions.
Take advantage of your student status
Many vendors offer students reduced rates or deals when you show your student ID. Sometimes the discount is listed on the store's website or social media sites, but you can simply ask the retailer whether they offer any student deals. Common student discounts include movie theatre tickets, restaurants or retail stores. Travel services like Amtrak or Greyhound sell student advantage cards to reduce transportation costs for students. When looking for student discounts, it never hurts to ask!
Personal, academic and financial growth
College is a good time for students to start managing money responsibly. Students can begin using controlled spending cards, LGFCU's CashPoints® Global Card, debit cards or a credit card like the LGFCU Zard credit card. As a student, it's good to get in the habit of making small purchases and paying back the balance to establish good credit. Building good credit will make it easier for you to be approved to buy your first car or rent your first apartment later down the road.