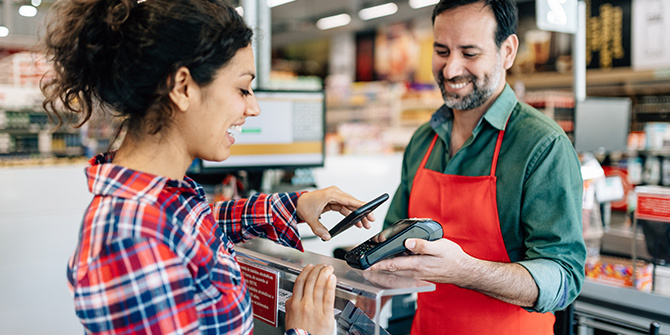 You can leave your debit or credit card at home and still enjoy a secure shopping experience just by using your mobile device. Mobile payment options make shopping easy and secure!
Use a digital wallet for in-store shopping
Add your LGFCU Visa® debit and credit card to any mobile payment system like Apple Pay®, Google PayTM or Samsung Pay® to create a digital wallet. Then select it as your default card.
Your cards are stored so you can make mobile payments directly through your phone or device. Digital wallet apps use Near-Field Communication (NFC) technology to let you hold your phone close to a retail checkout terminal enabled to accept this type of payment.
To reduce the threat to your personal data, the systems mask your actual card number. Your card numbers aren't stored in their entirety and offer easy app disabling if your card or device is lost or stolen.
Use online payments options for additional security
You can use mobile payments with participating retailers for faster checkout and added security. When checking out online, skip filling out long forms and looking up passwords. It's easy to securely speed through checkout when you click to pay with your Visa card.
Tips to stay safe when shopping online
Take the following precautions before, during and after shopping online or in-store to have safer experiences:
Before
Install security software, as well as antivirus and anti-malware, on all devices.
Secure your device with biometric security such as face or fingerprint recognition.
Keep your system software and apps updated.
During
Avoid shopping with a retailer or organization you're not familiar with.
Look for "https" and a closed padlock icon on your browser window. This means your web traffic is encrypted. 
Ensure you're using a trusted mobile payment app downloaded from an official app store. Fake apps exist and are designed to steal your card information.
Read the return and refund information thoroughly.
After
Regularly monitor your accounts to catch possible fraud sooner.
Shop with confidence with mobile apps and online payment systems, but if you suspect unauthorized card activity, call us right away at 888.732.8562.
Apple Pay is a trademark of Apple Inc.
Google Pay is a trademark of Google LLC.
Samsung Pay is a trademark of Samsung Electronics Co. Ltd.