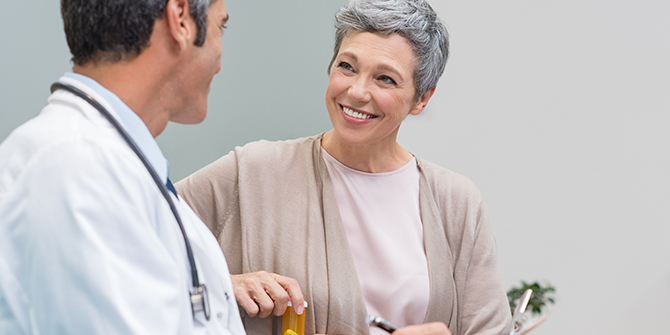 Are you approaching age 65 or already there? If so, now's the time to think about what your health coverage options will be like when you retire. Enrolling in Medicare, the federal health insurance program for people age 65 or older, may make sense for you. This health care plan will serve you in retirement, so it's important to know the Medicare basics before you enroll.
Medicare plan coverage
Medicare has two primary insurance coverages — Part A (hospital insurance) and Part B (medical insurance). Part A pays some costs associated with hospital stays, skilled nursing facilities, hospice care and home health care such as:
Doctors' fees
Lab tests
Semi-private hospital room
Surgery
However, it's best to ask your employer (or your spouse's employer, if that's where you get your coverage) whether your current insurance coverage will change if you enroll in Medicare, even just Part A.
Medicare Part B requires you to pay a monthly premium, which is calculated based on your income and when you enroll in Part B. Coverage includes, but is not limited to:
Physicals and preventive services
Clinical laboratory services
Diagnostics
Outpatient care
Medical supplies
Be aware there are services not covered by Part A or B­­. Additional Medicare plans are available that offer coverage beyond what you receive from Medicare Parts A and B. For example, Medicare Part C, also known as Medicare Advantage Plans, is offered by Medicare-approved private health insurers. Medicare also offers a separate prescription drug coverage plan called Medicare Part D. To get Medicare drug coverage, you must join a plan run by a Medicare-approved provider.
Visit Medicare Plan Finder to learn about plans and providers.
Eligibility and enrollment
If you've paid into the Social Security system for a minimum of 10 years and qualify for benefits, then you qualify to receive Medicare. Your eligibility begins on the first day of the month you reach age 65.
You can enroll in Medicare parts A and B during the three months before the month you turn 65, the month you turn 65, and the three months that follow. This is known as the Initial Enrollment Period. Your coverage start date will depend on when you enroll.
You can also enroll in Medicare before reaching age 65 if you've received Social Security disability payments for more than 24 months. Be sure to enroll in Medicare during this initial enrollment period or you may face a Part B premium surcharge if you enroll later.
For example, if you turn 65 in July, your seven-month window begins on April 1 and ends on October 31. If you enroll during the first three months of the enrollment period, your coverage will begin the first day in the month you turn 65. If you enroll in the month of your birthday or the three months that follow, your coverage will be delayed.
The chart below is an example of what enrollment and coverage look like during the initial enrollment period:
| Enrollment Month | Coverage Beginning Date |
| --- | --- |
| April | July 1 |
| May | July 1 |
| June | July 1 |
| July | August 1 |
| August | October 1 |
| September | November 1 |
| October | December 1 |
If you don't sign up within the Initial Enrollment Period, you can sign up during the General Enrollment Period between January 1 and March 31 each year; however, your coverage start date will be delayed until July 1.
If you are eligible for Medicare and still working, your decision to enroll in Medicare Part B is influenced by the number of people employed in your workplace. If your employer has more than 20 employees, you do not need to sign up for Part B right away because your employer's group health plan will be the primary insurer. When you retire, you will have a special enrollment period of eight months to sign up for Part B without penalty.
When you apply for Social Security benefits, it will trigger automatic enrollment in Medicare Part A. However, you can apply for Part A without taking Social Security benefits. You'll need to apply online or at your local Social Security office.
Don't delay enrollment 
If you're over 65 and covered by an employer's group health plan, you can delay Medicare enrollment without paying a premium surcharge. But if you want to guarantee access to health insurance coverage, it's best to enroll in Medicare once you become eligible at age 65 or retirement approaches.
Use these steps to help you make informed decisions about your Medicare coverage. For additional guidance on Medicare, contact your local Social Security office or Seniors' Health Insurance Information Program (SHIIP) with the N.C. Department of Insurance.
The advice provided is for informational purposes only.