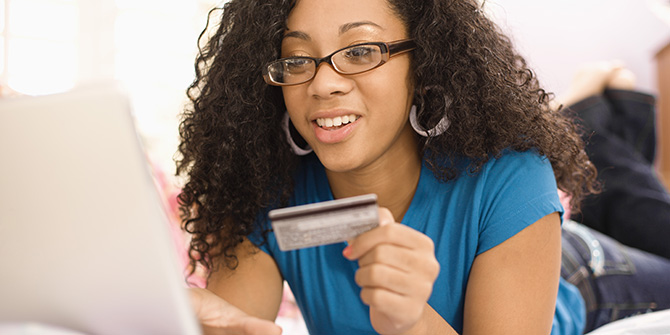 Choosing your first credit or debit card — whether you're a student or an older adult — is an important decision that requires plenty of investigation into your options. There are many features to each type of card and numerous reasons why you would choose one over the other first. Credit or debit card selection is a personal choice based on which card best fits your needs. From the terms stated in agreements to getting ready for the responsibility of managing your own account, weigh all factors carefully when choosing your first credit or debit card.
Is a debit card right for you?
A debit card, like a credit card, allows you to make purchases without using cash and can help you spend within your means. Also, you can withdraw cash from ATMs.
Debit cards offer the advantage of having the money deducted from your account right away, rather than waiting for a credit card bill to arrive days or weeks later.
LGFCU, for instance, offers two different types of debit cards — a demand deposit account or the debit card attached to your standard checking account. The cards operate in similar ways, but have some small differences in their set-up and use.
Either card allows you to withdraw up to $500 per day from an ATM and make up to $2500 in purchases per day. However, with demand deposit accounts like LGFCU's CashPoints® Global Card, there is no checking account required, making this a simple way to stick to your budget or to give a loved one convenient access to funds when no checking account is available.
With your CashPoints® card, there's no risk of going over your account limit because the balance on the card is tied to the exact amount you've set aside. You can use it to shop in person at any national Interlink merchant using your PIN. The CashPoints® card can also be used anywhere Visa® is accepted by selecting the "credit" option.
Similar to the CashPoints card, the LGFCU Visa Check Card, allows you to shop in-stores and online anywhere Visa cards are accepted, with or without a PIN. The Visa Check Card, tied to your checking account, can be used like a credit card, where a PIN is not required to complete a transaction. The funds are taken from your checking account at the time of purchase or very soon thereafter.
Debit cards can serve as an alternative to a credit card, giving you one more way to stay within budget.
How to choose a credit card
You've probably seen the credit card ads pop up in your inbox or the offers pile up in your mailbox. Before you open an account, ask yourself why you want it. One good reason is it allows you to begin building a credit history, which will help when you want to get a loan for something like a house or a car.
Many opt for a credit card because like a loan, it allows you to make big purchases when you don't have enough cash available, but will pay it off over time. If you make payments responsibly, credit cards help you begin or beef up your credit score. A good credit score shows potential lenders that you're worthy of a loan or line of credit. 
Like the debit card you can shop with the credit card. The bonus here is that you have more time to dispute unlawful charges before paying the bill. With a debit card the money is often deducted from your account before you realize there's a problem and you'll have to wait for a resolution before you get a refund.
As you sift through the many pre-qualified offers, you'll want to review key credit card attributes before making a final decision:
Low APR
Select a card that comes with a low annual percentage rate (APR), so you'll pay as little interest as possible if you carry a monthly balance. LGFCU's Visa Credit Card offers a low, variable interest rate, for example. You should try to pay your bill in full before the grace period (usually a 20-25 day billing cycle) end and interest rates take effect. That way you're not paying more for your purchase.
Introductory rates
Some cards come with a low introductory APR. Issuers then raise the rate after the promotional period ends. The Credit Union's low rate remains steady and applies to purchases, cash advances, and balance transfers.
Fees and penalties
Added one-time fees can apply to features like cash advances, which do not typically carry a grace period. Those fees are levied as soon as the money is borrowed. There could also be more longer-term penalties assessed like separate interest rates for cash advances. The APR could also change if you're late on a payment or go over your limit; that's on top of any possible late fees. LGFCU's Visa does not raise rates or assess additional fees for cash advances.
Are you prepared?
Choosing to open a credit card requires research and being able to manage the account responsibly. There is no ideal number of cards to have, but it does get harder to track expenses when trying to manage too many. Shop around and review your options before making a final decision.