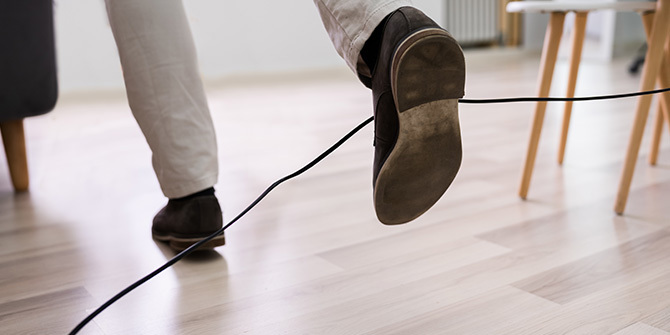 An aging population could mean more instances of fall-related injuries. Not just that, in the United States, injuries resulting from a fall happen more frequently at home than anywhere else. If you're aging or are planning to move an aging family member into your home, it's important to plan and budget for ways to reduce the risk of falling in the home. These tips can help put those most at risk on solid footing.
Assess your safety needs room by room 
As we age, we become less agile than we used to be. It gets harder to climb stairs and getting in and out of a tub can present a real challenge. That's when it's time to assess your living spaces for risk.
On your stairways, check that your handrails are securely bolted to the wall. If necessary, add a second rail for greater stability. Make sure the stairways and hallways in your home are well lit; consider adding nightlights.
Bathrooms, with their hard and slippery surfaces, can be particularly dangerous. Look at installing bathroom grab rails and adding slip-resistant surfaces to better help your loved one keep their balance.
Depending on the available space in your home, you may opt to move an elderly family member into a downstairs bedroom or reconfigure another first-floor space.
You (or a family member) may want to make small repairs on your own. But for larger fixes, consider hiring a contractor.
Make prevention a family goal
While seniors are most at risk for a fall in the home, it's a good idea to make prevention a priority for everyone in the family. A spill on a hardwood floor could mean a trip to the emergency room for a broken limb. Here are a few things you can do:
Get routine eye exams. Vision tests can go a long way in helping identify obstacles that could result in a fall.
Eat right and get regular muscle-building exercise. Activities that enhance balance and coordination can help prevent falls.
Choose your footwear carefully. If you have hardwood or vinyl flooring, consider wearing non-slip shoes. If you prefer wearing only socks in the house, opt for those with a non-slip padding.
Check your carpeting. Ensure the backing on throw rugs has a good grip to the floor. Fix edges that are not flat. Or if you have carpeted floors, remove loose fibers. Fix any spots that may be a tripping hazard.
For additional tips on home modifications for fall prevention, download this checklist from the Centers for Disease Control and Prevention.
Handling the upfront costs of living safely
If you're planning a major renovation and don't have enough cash available, look into a home equity line of credit (HELOC) to cover the cost. A HELOC allows you to borrow against the equity you've built in your home. You can find the available equity by subtracting your remaining mortgage balance from the current value of your home.
If you don't have enough equity built up in your home, consider a personal loan.
The advice provided is for informational purposes only. Contact a financial advisor for additional guidance.