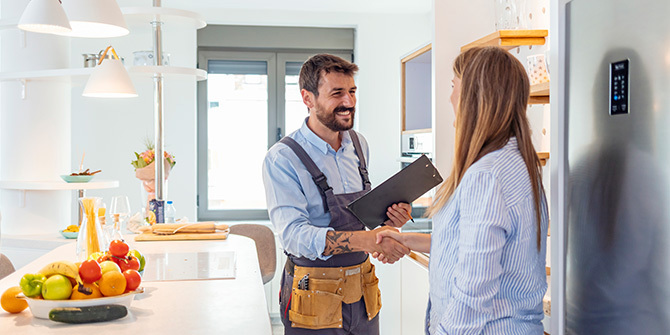 Do you have major home renovations in your future? Hiring a professional may come in handy when you can't make the upgrades yourself. Before hiring a contractor for home renovations, consider these tips.
What should I know before hiring a contractor?
Start by asking friends and neighbors, and checking local building supply company websites for names of reliable contractors. Look for a contractor who is licensed and insured to work in your state. Check the status of licenses with the N.C. Licensing Board for General Contractors. If a bid comes in significantly lower than others, it's best to ask more questions about why the bid is so low.
Get at least three bids to compare. Make sure the bid is fixed, meaning it's based on completing the total job. Otherwise, the amount you owe can exceed the original estimate as a result of unexpected expenses. Each bid should be in writing, describe all elements of the job, and contain a breakdown of labor and material costs. Bids should also include how long it will take to complete the job.
Reputation matters. Ask the contractor for a list of references and contact the Better Business Bureau to see if any complaints have been filed against that person or company. Check online reviews through search engines, business review sites and home repair business sites. When talking to a reference, ask if you can see the work that was done. You'll see exactly what the customer received and can decide if it meets your expectations.
How do I protect myself when hiring a contractor?
Be wary of anyone who shows up at your door claiming a serious problem needs to be addressed immediately. If the visit raises concerns for you, seek a second opinion before taking any action. Think twice about special offers, such as using your home as a model to receive a discount on a product or service or a bid that is good for one day only.
Be cautious of a contractor who wants full payment upfront. Most contractors expect a deposit to begin, with the remaining payments spread over the course of the project.
If you have issues with your contractor that you can't resolve together, file a complaint online with the N.C. Attorney General's Office or call 919.716.6000.
Major home repairs can take a large chunk out of your savings. If you're looking for a way to cover the work without dipping into your financial cushion, consider a home equity line of credit (HELOC) to cover the cost of big projects.
The advice provided is for informational purposes only. Contact a financial advisor for additional guidance.
HELOCs are subject to approval, are available for properties located in NC, SC, GA or VA, and are not available for manufactured homes. Members must reside in NC or bordering states to be eligible.