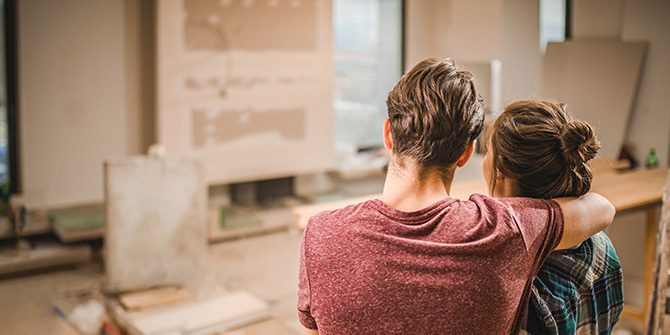 If you're a homeowner facing major home improvement expenses, are looking for money to cover college, or want to pay down high-interest debt, a home equity line of credit (HELOC) may be just the solution you're looking for.
This revolving line of credit allows you to borrow against the equity you've built up in your home. In other words, the value of your home minus the amount of unpaid mortgage is what you may be able to borrow. Here are five reasons we think you'll love a HELOC.
It's flexible for home improvement needs
If you're wondering why you might use a home equity line of credit, think about the word "home" in HELOC. Sometimes a home's big expenses are unpredictable. Maybe you only anticipated replacing your air conditioning unit, but you now need to add on a new furnace too. Or, perhaps you're looking to do some renovating. Your HELOC has your back to help cover those additional costs. Unlike a closed-end loan, such as a personal loan, which involves one upfront payment to you, a home equity loan is open-ended.
You can withdraw the money you need as you need it within a specific time period. You'll only pay interest on the amount advanced to you. Plus, you can easily request funds with a loan advance. And the money is there in case you need to have protection against overdrawn accounts.
Can you use home equity to pay for college?
Yes! If you qualify, you can use it as a low-cost alternative to a high-interest student loan. If you qualify, you can use it as a low-cost alternative to a high-interest student loan.
Pay off or consolidate debt
If you have credit cards, outstanding student loan debt or other lines of credit with multiple rates, consider a HELOC to combine all that you owe. This way you'll have one low monthly payment. That's more money in your pocket!
Lower rates than other types of loans
Home equity line of credit rates are often lower than those on credit cards or personal loans. 
Interest may be tax deductible
A HELOC is considered a second mortgage, so the interest paid on it may be deductible on itemized tax returns, if the money is used for substantial improvements to your home that add value, prolong its useful life, or adapt it to a new use. Talk to your tax advisor for details.
HELOCs are subject to approval, are available for properties located in NC, SC, GA or VA, and are not available for manufactured homes. Members must reside in NC or bordering states to be eligible.
The advice provided is for informational purposes only. Contact a financial advisor for additional guidance.