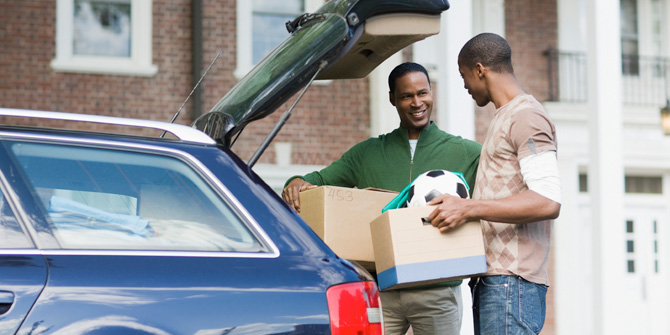 Scholarships, grants and loans have long been the way to supplement paying for college. With scholarship and grant money becoming harder to get, some are borrowing more to make up the balance. If you want to limit what you'll owe in loans, consider some of these overlooked ways to pay for school.
Start with financial aid
Before you look into other funding, start the process to apply for financial aid by submitting the Free Application for Federal Student Aid (FAFSA). The U.S. Department of Education will send you a Student Aid Report that shows your Expected Family Contribution toward college costs, and immediately after processing, send the report electronically to the colleges listed on your form. Next, each financial aid office creates a custom aid package that may include loans, grants, scholarships and work-study.
If the aid package covers your child's entire financial need, you're in great shape! If not, there are other options to find more money.
Help pay while still in high school
Taking Advanced Placement (AP) classes may help cut the cost of college before a student even graduates from high school. Students who take AP classes during high school can opt to take the end-of-year annual exam. If they earn a certain score then they earn college credits and/or placement. If enough AP credits accumulate they can bypass a semester or more of college, which helps offset the amount needed to pay for school.
Apprenticeship or internship programs with local employers or joint programs between your teen's high school and community colleges may be another way to lower college
costs. These programs allow students to attend school half-day then work part-time in a trade, while, in some cases, earning college credit. Your teen should talk to a guidance counselor about these opportunities.
Attend a two-year college
Choosing to start at a community college can be a great way to save money and stay in school. Some students attend for one year and complete core curriculum classes. The bulk of students stay on for two before proceeding to a four-year college and are able to realize significant savings.
Public reports say it costs about $4,000 in tuition on average for in-state students to attend one of North Carolina's 58 community colleges for the 2022-2023 academic year. The average annual in-state, four-year, private college tuition in North Carolina was $38,070 for the 2021-2022 academic year. That's more than $152,000 for four years of attendance. And this doesn't include room and board. According to CollegeTuitionCompare.com, tuition at one of North Carolina's 77 public colleges is far less expensive, averaging about $7,000 per year during the 2022-23 school year. After four years, the cost of tuitionis more than $28,000 — less than a fifth of the cost of private school tuition.
Look to the community around you
The community you live in may have a wealth of resources that can provide supplemental funds to help cover costs other than tuition and fees. Churches, community and fraternal organizations, scholarship pageants or rewards based on athletic or academic standing, can help shrink education costs.
Work and go to school
Working part-time while attending college is another smart approach toward completing a college degree with less debt at the end. The FAFSA determines how much money a student qualifies for through Federal Work-Study (FWS). FWS jobs are tailored to academic schedules whenever possible. If your student is not eligible for a campus work-study job, they should visit the school financial aid office, follow the school's social media pages or look for signs in public areas that list other types of job openings.
Make sure to apply the best mix of work and study time needed to maintain a good academic standing, especially if a student can qualify, or requalify, for future scholarships based on their grade-point average.
Seek aid from an employer
While many employee benefit needs shifted during the COVID-19 pandemic, an employer's tuition reimbursement program is still a desirable benefit to many employment seekers.. A 2022 report from the Society for Human Resource Management says that 48 percent of employers nationwide offer some level of tuition reimbursement.
If your student joins the workforce, urge them to check with the Human Resources department to clarify how much they may provide and what restrictions may apply. Plus, this is a great way to integrate new skills into job duties, prepare for future career plans and maybe get a pay raise.
Consider military education benefits
The Montgomery GI Bill gives service members (and veterans) over $60,000 in cash and has numerous support programs to help cover full-time education and training costs. Also, the Post-9/11 GI Bill provides education benefits for men and women who have served on active duty for 90 or more days since September 10, 2001. This benefit goes beyond the Montgomery GI Bill to cover full tuition and fees, provide a monthly housing allowance while enrolled, and provide up to a $1,000 per year cash stipend for books and supplies. When it comes time to apply for benefits, a supervisor can help decide which option best suits the service member's educational goals.
These funding sources could help bridge the gap between what you're able to contribute and financial aid, while helping you reduce the amount of loans needed to cover college costs. If you haven't already started planning for the cost of college, try a budgeting app to create a plan, and track and manage expenses to help you stay focused on your goal.