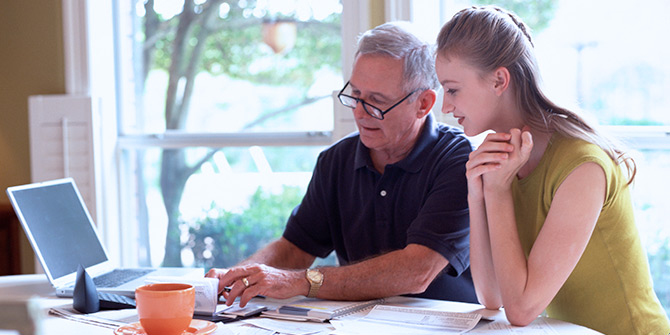 It's an exciting time for families when teens make the big transition from high school senior to college freshman. Of course, there are many things to do before your child heads for campus, but it's important to make time to have a conversation about basic money management. Share these money tips for college students to help with the transition to this new chapter of life.
Make a budget and stick to it
Between classes and new campus activities, budgeting as a college student may not be top of mind. However, it's important your student becomes familiar with creating a basic budget. Explain the difference between income, expenses and savings, and how they relate to each other.
Point out that expenses should not exceed income or debt will accumulate, including interest. If your teen runs out of money, tell him to adjust his spending to be less than his income. Don't be tempted to bail your child out!
Get to know how your credit union accounts work
Talk about how a Credit Union account works. Show what fees, if any, are associated with her Zard Account. If she's using the complimentary debit card, make sure you explain how the card works. Using a debit card gives your teen a chance to learn the importance of keeping a transaction record and monitoring accounts regularly so as not to blow the budget she created. And although most banking is done online, she still needs to know how to write a check, just in case it's the only option for payment.
Use credit cards with caution
The minimum age requirement to apply for a credit card is 18 years old. So, don't be surprised to see offers for pre-approved credit cards flood your mailbox shortly after your teen's 18th birthday.
If your teen applies for a Zard Visa® Credit Card, be sure to explain how credit cards work, the impact of interest rates, and how card balances and interest can quickly accumulate, if the balance isn't paid in full every month. Getting a card is subject to approval. The Zard credit card comes with no annual fees, plus the same low rate and Overdraft Transfer Service adult members receive. This teachable moment emphasizes the responsible use of credit cards.
Learn the value of a credit history
Talk about the benefits of a good credit score versus a bad credit score with your child. Explain that the higher the credit score, the better the interest rates may likely be on a future loan or possible credit line extension. Stress how important it is to pay bills on time and not carry large amounts of debt in order to shape a positive financial future.
Start saving early
Don't let your teen focus solely on saving money for a new car or a big trip she wants to take. Highlight the value of saving to handle unexpected emergencies like an auto repair. Even if you're paying her school bills and other incidentals, emphasize that emergencies are guaranteed to happen. You may not have the funds to help. She'll need to be prepared to cover those expenses.
How do students manage their finances?
Your student can ace personal finance 101 with the help of Compass by LGFCU, our complimentary, interactive, money management service. If he has a Zard Teen Account or a regular Share Account, help him add his checking or savings account to the Compass app. Remember, if he's not using Compass with a Wi-Fi connection, data charges may apply. Check with your service provider for more information.
Somewhere between shopping for the new dorm room and packing the car, make time to talk to your teen about managing finances.
The advice provided is for informational purposes only.