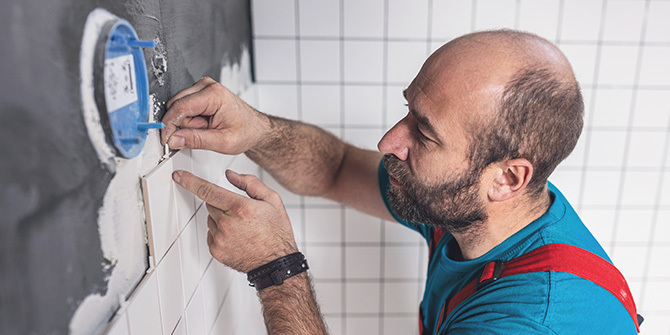 If you're not in the market for a new home, it may be the perfect time to spruce up your current one with a remodel. If home renovations are in your future, here are a few simple tips to help you cover the costs to make your old home new again.
How much should I budget for remodeling?
You can consider small updates like a new coat of paint or bigger projects like redoing a bathroom. Consider which improvements will be most likely to boost your home's possible future resale value or provide your family with the extra room it needs to grow. Either way, look for the project with the least amount of investment that could bring the highest return.
Go online for information about project costs or use a renovation budget calculator to help you estimate the expense for each project. According to major home repair sites, the kitchen is the most expensive room to renovate with bathrooms running a close second.
If you can't afford to complete all your projects right now, pick your priority.
Decide how you'll pay for the project
Now that you're done with budgeting, make sure you have the money to cover the project. Your savings is an option, if you can use some of that for your project and still maintain a cushion for an emergency.
If your savings is not enough, consider applying for a home renovation loan. If you don't have enough equity in your home, a personal loan may be a better option. Alternately, a low-rate credit card may be an option for covering smaller home repairs. Your Credit Union can help you determine what type of credit will best meet your needs.
With any line of credit, make sure your overall household budget includes future repayment expenses. If not, you can always scale back your home improvement plans or postpone getting started until you've saved a little more.
Consider who will do the work
To save money, look for DIY opportunities and ideas. Ask a friend or family member for help. That said, there are definitely times when a licensed professional may be the better option, or required to get any necessary permits.
Even with smaller jobs, it may be prudent to hire licensed professionals for things like plumbing, electrical work, or any task where rookie mistakes might cost you more in replacement materials (or headaches) than you saved in labor costs.
Ask friends and relatives for referrals to professionals. Look for local help on websites that refer contractors with verified reviews and ratings. Be sure to read the terms of use in case there are any fees involved with registration and use. Some sites even perform background checks, so you don't have to. If your employer offers an Employee Assistance Program, check to see if vendor references for this type of work are included.
If you plan to hire outside help, be sure to get at least three different estimates. Consider which contractor comes with the best references, which you think you'd feel most comfortable working with, and which has the most reasonable and realistic budget.
Keep tabs on the work and the agreed upon plan to stay within your budget.
The advice provided is for informational purposes only. Contact a financial advisor for additional guidance.
Subject to approval. APR = Annual Percentage Rate. Open-End Signature Personal Loans have variable rates and are available for LGFCU members residing in NC, SC, GA, TN and VA. Variable rate is subject to change quarterly and is based on the 26-week Treasury Bill. The APR cannot increase by more than 1% each quarter over the previous quarter and cannot exceed 18%.
Credit card is subject to approval. APR = Annual Percentage Rate. The APR equals 9.50% plus the Index Rate. The Index Rate is the 26-week Treasury Bill rate set at the first T-bill auction held each quarter and adjusted up to the nearest 0.25%. There is no minimum interest rate. The maximum variable APR for purchases and balance transfers is 18.00%. Cash advances have a fixed APR of 18.00%. Rates are subject to change; see the LGFCU rates page for current terms. Approval of new credit card applications is limited to residents of NC, SC, GA, TN and VA. Interest on cash advances and balance transfers begins to accrue from the date the transfer is posted to your account. Additional fees may apply; see the Visa Credit Cardholder Agreement for more details on our Credit Card page.
HELOCs are subject to approval, are available for properties located in NC, SC, GA or VA, and are not available for manufactured homes. Members must reside in NC or bordering states to be eligible.