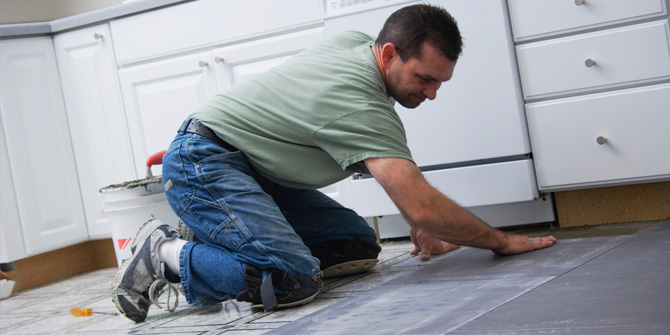 It's homebuying season, but you may not be in the market for something new. It may simply be better for you to remodel your current house. If home renovations are in your future, here are a few tips to help you make your old home new again.
Estimate the costs of remodeling
Take a look around and make a list of what needs to be done. Consider which improvements will boost your home's resale value for the least amount of investment.
Pick your priority project. Once that's done, go online to help you estimate what your project might cost or use one of the many renovation budget planning apps available.
If necessary, look for DIY ideas to help you reduce costs. If you want to do a bathroom remodel yourself, for instance, comparison shop for vanities and showerheads at various retail stores. Don't forget to check discount centers like Habitat for Humanity ReStores or Goodwill, where gently used home goods cost about 50 percent less than retail.
Figure out how the work will get done
With your budget in mind, you're ready to plan the work. If you plan to do the job yourself, you may be able to save, on average, about 15 percent of the cost of professional labor. Some projects may require more than one person, but you can still keep costs low. Call a friend or family member to lend a hand. Your only payment may be a nice home-cooked meal in your updated kitchen instead of cash.
A licensed professional (e.g. electrician) may be the better option. Ask friends and relatives for referrals. Look for local help on websites that refer contractors with verified reviews and ratings. Some sites even perform background checks, so you don't have to. Some online referral businesses may require a membership fee.
If you plan to hire outside help, be sure to get three estimates. You may not go with the cheapest but consider the one with the best references and that you feel most comfortable with.
Or, if your employer offers an Employee Assistance Program, check to see if vendor references for this type of work are included. Big-box home improvement stores sponsor websites that could be another resource to find area professionals.
Decide how you'll pay for the project
Now that you're done with budgeting renovation costs, make sure you have the money to cover the project. Your savings is an option, if you can use some of that for your project and still maintain a cushion for an emergency. If your savings is not enough, consider applying for a Home Equity Line of Credit (HELOC) or Signature Personal Loan to pay for your repairs. Your lender can help you determine what type of loan will best meet your needs.
If you go with a loan option, make sure your budget allows for future repayments. If not, you can always scale back your home improvement project or postpone getting started until you've saved a little more.
No matter what, organize your ideas upfront and stick to your money plan. Soon you'll be on your way to breathing new life into your old home.
The advice provided is for informational purposes only.