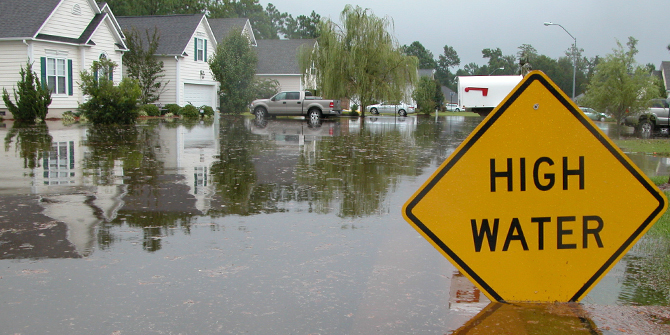 Excessive water buildup caused by storms, changes to creeks, river and stream overflows due to blockages, and snowmelt are some of the most common causes of flooding. Just one inch of water in a home can cause more than $25,000 in damages. If your property is not protected by flood insurance, you'll be stuck paying for the cost of all repairs out of pocket. This could cause a serious financial burden. Here's what you need to know about flood insurance.
Who needs flood insurance?
If you live in a flood zone, buying flood insurance may be mandatory. But even if you don't live in a coastal region or other flood-prone zone, you could face damage or other related expenses from rising water not covered by most standard homeowners insurance policies. That's why having flood insurance could make sense for anyone.
Flood insurance offers protection for the insured building, the building's foundation, electrical and plumbing systems, appliances, floors, furniture, clothes, and valuables like artwork and jewelry. You can purchase additional coverage to provide for living expenses and any damage to finished basements.
Where do I buy flood insurance?
For optional protection from flooding, first contact your homeowners insurance agent. However, if that agent is not licensed to sell flood insurance, the National Flood Insurance Program (NFIP), managed by the Federal Emergency Management Agency (FEMA), may be able to help.
If your current homeowners insurance agent or company doesn't sell flood insurance, you can call the NFIP Help Center at 877.336.2627 to request a referral to one that does. Not everyone is eligible to purchase a NFIP policy. It can be sold only to individuals who live in FEMA-approved participating communities. The good news is many North Carolina communities participate.
A participating Program Community is typically an individual city, town or village, but could be an entire county that has applied and is accepted by FEMA. At least one municipality in every county in North Carolina is on FEMA's list of communities participating in the National Flood Program. You cannot buy FEMA flood insurance directly through the federal government.
How much does NFIP flood insurance cost?
NFIP policy costs are determined based on factors such as:
Year of construction
Building occupancy
Number of floors
Location of contents
Flood risk (e.g. type of flood zone — low, moderate, high)
Location of lowest floor in relation to the Base Flood Elevation (the computed elevation to which floodwater is anticipated to rise during a base flood) on the flood map
Deductible and amount of building and contents coverage
Should I shop around?
Flood insurance is the only type of policy where costs don't differ from one insurer to the next. Therefore, the cost you're quoted by one agent will be the same across the board with all other agents.
In case of excessive water in your home, flood insurance could be exactly what you need in order to prevent financial burdens, so contact your homeowners insurance carrier to learn more.
The advice provided is for informational purposes only. Contact a financial advisor for additional guidance.