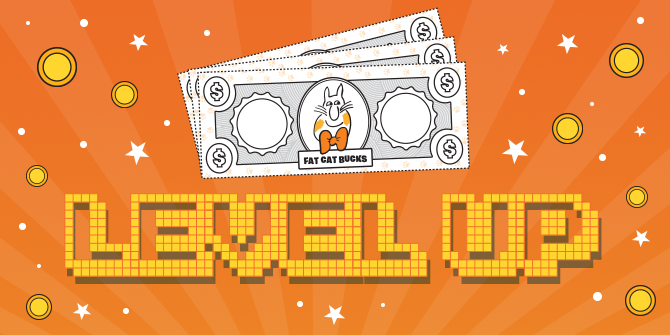 While you provide for the needs of your children, and likely many of their wants, it's not a bad idea to give them opportunities to make their own money, just like you do. So how can parents help their children earn money? Here are some ideas.
4 ways young kids can reel in their own cash
Let them have fun while earning money and working toward a savings goal. They can exchange "Fat Cat bucks" for real bucks for a "job" well done with this youth activity.
Let your children pick up extra chores around your house with small tasks like vacuuming, sweeping and dusting furniture. In the yard they can weed flower beds and prep gardens for new plantings. They can work in the neighborhood helping a senior citizen with home organization, dog walking, or washing their car. These are great ways for youngsters to earn some money and provide companionship. If your children don't have their own cellphone, be sure you have a number for the neighbor. And if they're going to walk or ride their bikes by themselves, talk to them about safety. 
Encourage your kids' entrepreneurial spirit by helping them host a bake sale of homemade goods. Let them gather old toys and clothes they can sell at a yard sale to score a little cash. As a reward for their extra work, maybe add a small bonus to an existing allowance. It's OK if you don't give your children an allowance. They can still put money in their pocket with some of the earlier ideas.
Help your teens bring home bank, too
Your teens can pick up extra chores around the house too, but they may think they're too old (or too cool) to work for you, so let them find their own way to earn money. They can sell old video games and real-life board games to a game shop. That might add a few dollars to your teens' pockets. Plus, getting rid of old board games makes room in overstuffed closets.
If your children are old enough to have an after-school job, encourage them to check for more available shifts. They'll want to pick up just enough to earn extra cash, but not enough to affect their schoolwork.
Older teens can work in the neighborhood, too, by checking on pets or picking up mail and packages while neighbors are away. Encourage them to look for opportunities to gather and sell eggs from a neighbor's backyard chickens, tidy coops and feed the birds. Activities like this usually only require an hour or two a day, but the work could yield a tidy sum in return.
Finally, see how they score on the Zard Teen Money-Earning Skills Quiz. Then on top of any job earnings, add a little extra.
Encourage children to save money with a fun challenge
Now that you have plenty of ways to show your kids how money is earned, help them level up their savings game with the 30-Day Kids' Savings Challenge.
Once they've hit their savings goal, put their cash in a dividend-earning account, like LGFCU's Fat Cat Kids Account or Zard Teen Account. This way the Credit Union adds a little more, which can help them reach their savings goals even faster.
The advice provided is for informational purposes only.