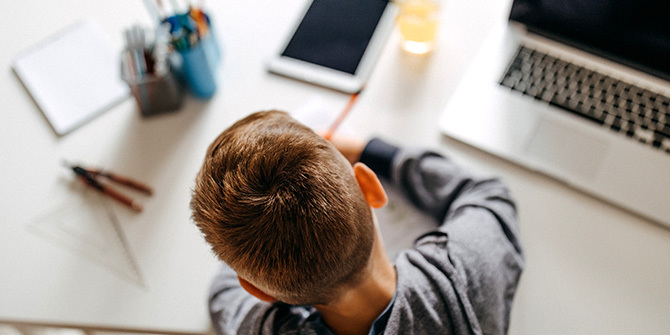 Summer goes by quickly and before you know it, back-to-school season has arrived. Suddenly you realize you haven't yet bought anything on your child's back-to-school list. But don't panic. Whether your child is heading back to campus, or learning from home, here are five easy tips to keep you from spending a fortune on last-minute back-to-school items.
Shop your home
The first question on many parents' minds is, what should I buy for back to school? Consult the list provided by the school or department store. Before you start shopping, look through every drawer and closet in your house to find extra pens, paper, markers and other supplies. A good place to start is your junk drawer, where pens and paper tend to collect.
Wait a few weeks
Because retailers are eager to get a jump on the holiday season, they'll clear out the back-to-school items with deep discounts. If there are items on your kids' lists that can wait until after school starts, buy them in a few weeks when they're on clearance.
Shop online
Consider back-to-school shopping with local stores online. You may find a discount code on the company website to reduce your overall costs. Another benefit of online shopping is that you'll be less likely to fill your shopping cart with unnecessary items that catch your child's eye in retail store aisles.
Host a swap
Call up friends, family or neighbors who have children older and younger than yours and host a virtual clothing swap where you connect online and show available items. You can also agree to meet locally to exchange goods to avoid shipping costs. A local swap can help everyone fill their closets without emptying their wallets.
Buy new to you
For backpacks and clothes, make the most of in-person and virtual garage and consignment sales. Shopping thrifted items is not only a great way to save money, but reusing and repurposing items also benefits the environment.  
Think long term
Buying 100 pens or 20 notebooks may feel like overkill right now, but you'll pat yourself on the back when you're not scrambling to get more supplies mid-year. Make sure to take advantage of this year's back-to-school clearance sales to stock up for next year!
You can also use back-to-school shopping as an opportunity to teach your kids smart spending habits. Consider allowing your children to withdraw money from their Fat Cat kids account or Zard teen account to purchase a fun, non-essential back-to-school item of their choice. Just make sure you agree upfront on a fixed amount your child can withdraw and spend and help them stick to their budget. This way kids learn to spend only what they have.
While planning ahead is always ideal for back-to-school shopping, you can still get everything you need under the wire and under budget.
The advice provided is for informational purposes only.