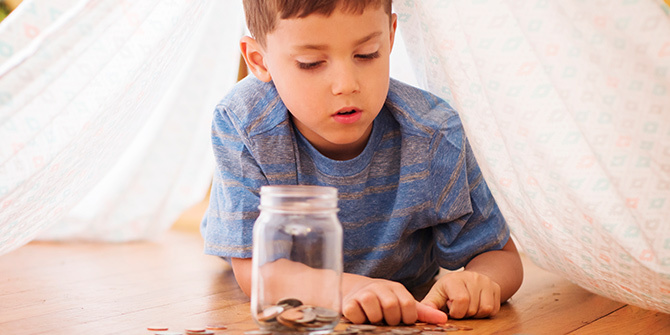 Help your children make saving fun and easy with the 30-day money challenge for kids! This first-person experience lets your children be the hero of their own savings game. Here's how you and your children can have fun saving together.
Try the 30-Day Kids' Savings challenge
There are no hard-to-understand formulas, just simple savings with this money challenge. Starting with day one, your children save 25 cents. Day two they save 50 cents. Their deposits level up throughout the month, by adding one more quarter to each day's beginning balance. So, the largest amount of money your children ever put into their piggy bank or jar at one time is $7.50. At the end of the month, they've saved $116.25!
Plus, when they deposit their hard-earned coins into a Fat Cat Kids Account or Zard Teen Account, their money earns dividends on top of their savings, like your LGFCU Share Account does. That means your children are saving even more money for the things they want!
Your mission: Keep them on track
April is Financial Literacy Month and a great time to help your young kids lev­el up their real-life savings skills with this 30-Day Kids' Challenge activity page! They'll have fun seeing how putting change in a jar each day adds up over 30 days. Help them set a goal of saving for something they really want. At the end of the month, they can use the coin sorter at their local branch to count their savings. Then they will be able to decide how much to put in their account versus how much they want to keep in cash.  they'll be excited to score that new vide­o game, ic­e cream outing with friends or something else they want­ to buy later!
If you have teens at home, let them in on the action! Give your older players a mission to sock away money every day and see where they rank at the end of the month. This 30-Day Kids' Money Saving Chart is a great way for your teens to see their savings compound. For an even bigger challenge, help your children save all year with the 52-week savings challenge for kids.
To earn dividends, a FAT CAT® Account must have a minimum balance of $25.