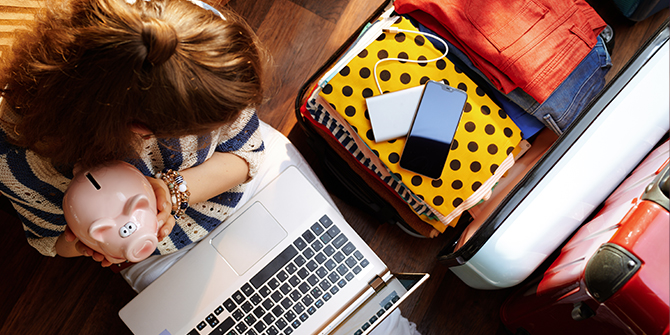 As the weather gets warmer, it's time to think about summer vacations. But how do you plan a fun, memorable vacation that won't break the bank? If you're willing to invest the time to research your options, you can plan a great getaway you'll be talking about for years at a cost that won't send you over budget.
Start at the beginning
Before you set your heart on a destination, determine your budget. Be sure you're not underestimating a vacation's true cost. Take into account all your meals, transportation, tips and souvenirs. Don't forget to add in costs for boarding pets while you're away! Then add a cushion for emergencies.
Start with your research
Discount theme park tickets may be available from local grocery stores or your Credit Union. Take advantage of memberships like AARP and AAA, and military and student IDs, all of which may save money off the cost of your trip. Wholesale clubs also offer travel planning services and packaged trips at discounted costs.
Consider renting a private home that gives you access to a kitchen, which cuts down on eating out. Otherwise, look for deals where kids eat free or a hotel where breakfast is included. The room may cost a few extra dollars a night, but it could be less than what you would spend on the meals. Apps and online sites allow you to search for restaurants by location and view the menus in advance so you can avoid sticker shock.
Research transportation options
Go online to see which days and airlines are the cheapest to fly. Be flexible. Shifting your plans 24 hours in either direction or flying into a nearby airport may save money in your budget.
Search airport fares in ride-sharing apps. You may be able to slash parking fees by getting dropped off instead of parking your vehicle on site. If you do park at the airport, look for options to pay online in advance to reduce your parking costs. Also, consider parking a little further from the terminal to save even more.
If you're planning to rent a car, you may be able to skip the add-on insurance. Your regular car insurance might already cover those costs. Also say no to extras like paying the company to refill the gas tank. You could pay up to twice as much for the fuel.
Lastly, traveling by train may be less expensive than driving or flying. Plus, you have seats with lots of legroom and you're free to walk around.
Save on your play 
Before you go, visit the local Convention and Visitors Bureau online for an overview of things to do. Once there, visit the office for free vacation guides, coupons and advice.
Save for next year
Plan for next year's getaway with a special savings account just for vacation. Transfer funds from your paycheck every pay period. If you don't see it, you won't miss it.
The advice provided is for informational purposes only.