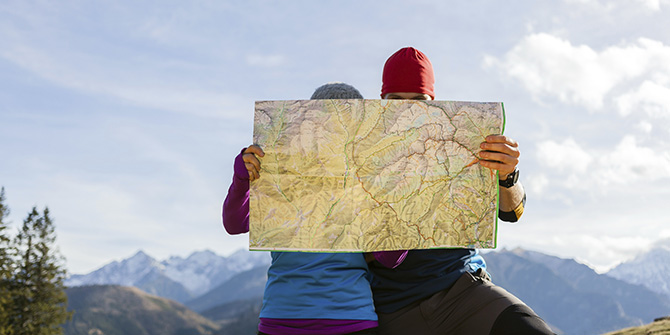 As the weather gets warmer, it's time to start thinking about summer vacations. But how do you plan a fun, memorable vacation that won't break the bank? If you're willing to invest the time to research your options, you can plan a great getaway you'll be talking about for years—without it taking that long to pay for it.
Start at the beginning
Before you get your heart set on a destination, take a step back. First figure out your budget. A common mistake many people make is underestimating a vacation's true cost. Remember to take into account all your meals, transportation and parking costs, tips and souvenirs. And don't forget to consider costs for boarding pets! Then be sure to add in a cushion for emergencies.
It's all in the research
Stuck for ideas? Visit TripAdvisor.com/TankofGas. Enter a starting city and choose whether you're looking for a destination reachable on a full, half- or quarter-tank of gas. You'll get a list of destinations, along with top-rated attractions for once you arrive.
Consider National Parks. There are more than 400 in the United States and14 in North Carolina alone—from the Appalachian National Scenic Trail in the mountains to Cape Hatteras National Seashore on the coast. Visit NPS.gov for ideas.
Don't limit yourself to hotels. By renting a private home, you have access to a kitchen, which saves a lot on meals. Some good sources for vacation rentals by owner include AirBNB.com, FlipKey.com, HomeAway.com and VRBO.com.
Get a sneak peek before you commit. Oyster.com and Room77.com both offer a searchable database of hotels. View photos taken by real vacationers, learn the best and worst rooms and get other insider tips.
Is there a small town near your destination that might have less expensive accommodations? Just a few extra minutes' drive can shave a lot off the nightly rate.
Don't assume a travel package is a better deal than buying each of them separately. Do the math to be sure you're getting  the best price.
Look for Kids Eat Free or free breakfast offers. The room may cost a few extra dollars a night, but it's usually far less than what you would have spent on the meals.
Take flight
Tuesday is the cheapest day to fly. Sunday is most expensive.
Be as flexible as possible on travel dates and airports. Shifting your plans 24 hours in either direction or flying into a nearby airport can save a lot of money.
According to CheapAir.com, the lowest fares are available about seven weeks beforehand. At the one-month mark, the price increases dramatically.
Believe it or not, sometimes it's less expensive to fly first class, especially on Tuesdays, Wednesdays and Saturdays. This is generally limited to flights to and from larger cities, but it never hurts to check.
Know your wheels
Reserve the least expensive rental car. Those are generally chosen first, so it's more likely they'll run out and you'll get an automatic upgrade. Even if you arrive and get the car you booked, it's cheaper to upgrade at the counter.
Sometimes you can save on airport fees and taxes by taking a taxi to a car rental agency a little farther away from the airport.
Don't double-dip on insurance. It's likely your regular car insurance already covers a rental. Or take advantage of your Visa Rental Insurance. Also say no to add-on costs like paying for them to refill the gas tank. You could pay up to twice as much for the fuel.
American Express offers a discount car rental program, available even if you aren't a cardholder. Go to AmericanExpress.com, select Travel, Book a Trip, then the Cars tab.
Ride the rails
Consider traveling by train. It's less expensive and more ecofriendly than driving or flying. Plus, you have comfortable seats with lots of legroom and you're free to walk around.
Children ages 2 to 15 ride for half price, and infants under two are free. There are also discounts for students, military, seniors and AAA members.
Check out the vacation packages. From the Amtrak.com homepage, select Deals then Amtrak Vacations. There is a category for family vacations that includes a variety of excursions from a 7-day Glacier National Park adventure to five days in New York City.
Pack smart
Of course, you'll want to pack light to avoid paying overweight baggage fees. There are also other ways to pack smart and save money when you're away from home.
Mail bulky things like diapers, juice boxes and baby food to your destination in advance. If you're an Amazon Prime member, order online and you won't even pay for shipping. And it also works the other way around—why schlepp your souvenirs or dirty laundry through an airport when you can box it up and send it home in advance? It likely costs less than checked baggage fees, and there's no fighting over crowded overhead bins.
Just because you don't have a kitchen doesn't mean you're stuck eating out for every meal. If your hotel room isn't already equipped, request a mini refrigerator and/or microwave in advance. Bring or ship plastic utensils and bowls, boxes of cereal and packets of oatmeal. Just add milk and you've got breakfast in bed for a fraction of the cost.
Be prepared. Pack over-the-counter medications and basic first aid supplies and you'll never find yourself paying a fortune for pain reliever in a pinch.
Save while you play
The flattened penny machine is your friend. They're easy to find in amusement parks, tourist spots and big cities nationwide, and for about 51 cents (your penny, plus the cost of the machine), your kids will have a souvenir to remember, plus the satisfaction of turning the crank and crushing the penny themselves. Pack a roll of quarters (an empty prescription bottle is the perfect size) and a handful of pennies and you've got yourself an inexpensive vacation tradition.
Bring a backpack on day excursions. Pack water bottles and heat-resistant snacks to avoid desperation or impulse purchases.
Once you reach your destination, visit the Convention and Visitor's Bureau for free vacation guides, coupons and advice.
Buy discount theme park tickets from local grocery stores. Search in advance to find the store location nearest your accommodations and save like the locals.
Meals can quickly add up. OpenTable.com allows you to search for restaurants by location and view the menus in advance so you can avoid sticker shock. Dining out for lunch and eating sandwiches for dinner is another way to cut costs.
Membership has its advantages
Where do you belong? Take advantage of memberships like AARP and AAA and military and student IDs, all of which may shave money off the cost of hotels, transportation and meals. Wholesale clubs like Costco also offer travel planning services and packaged trips at discounted costs.