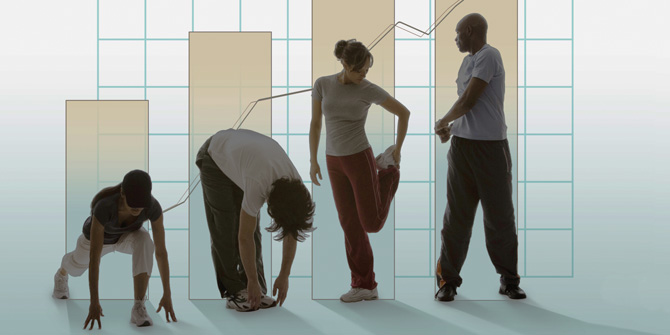 Find your financial happy place. Start with positive lifestyle changes that will help you build a stronger financial future. Create a winning money strategy based on these habits of financially fit people.
Highlight your values and principles 
Focus on your values and principles to reinforce your priorities. Make a list of what's most important to you in your life. Review your list when planning your budgets and creating your financial goals. This will help you filter out emotion and convenience from the choices you make.
Set goals 
Set goals for now, next year and into the future. Creating goals and committing to reaching them is a trait of people with fit finances. Make it your priority to get SMART about your goals. Goals should be specific, measurable, attainable, relevant and time-bound.
Have a clear picture of where you are right now. To determine where you want to go and how to get there, you need to know where you are today. Calculate your net worth. know the value of your savings and investment accounts as well as loan balances you owe. The financially fit commit to these basics and are aware of where their finances stand.
Create a spending plan 
Make a budget and stick to it. Limit monthly, weekly and daily spending with an eye toward saving money. You'll be in a better position to meet your financial goals. Your budget is a key building block for your financial future.
Track your spending as you go
Know where you stand after your financial transactions occur. Financially fit people keep up with their spending activities. They make changes to their spending habits to remain on target with their budgets and goals. Whether balancing your checkbook or monitoring your accounts online, keep track of your spending. Compass, LGFCU's online money management tool, is an easy way to view all your accounts in one place. With Compass it's simple to view transactions, track spending and more.
Plan for the unexpected
You have many financial responsibilities and challenges that you plan for. Yet, what are you doing to prepare for the unknown and unexpected? Get covered with an emergency savings fund and appropriate home, auto and life insurance policies. Another cornerstone of financial fitness is preparedness. You never know when you'll need this just-in-case coverage.
Live below your means
Embrace thrift, reject wastefulness and delay gratification if you want to build wealth. Financially fit people live below their means. This means decreasing your spending and not taking on unnecessary debt.
Getting to a place of financial fitness starts with a clear view of where you want to be. It also includes a plan to spend less and save more. You may need to sacrifice now for later. Before you know it, you'll be living a life that is more financially stable.