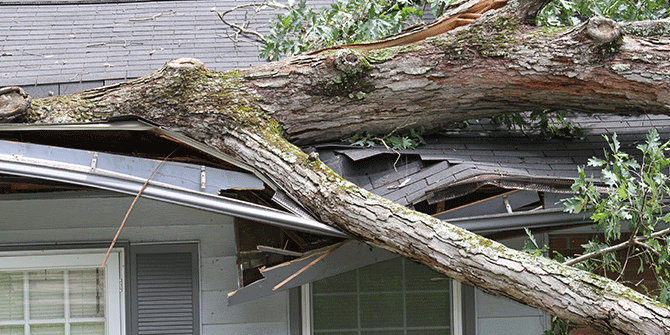 Your home is probably the biggest investment you'll ever make. If it or its contents become damaged, homeowners insurance can cover the cost of repairing, replacing or even rebuilding. Knowing a few key things about insuring your home can help you get the most out of your coverage.
Know the type of deductible for your policy
Your insurance company may offer two options for choosing a deductible:
Dollar-amount deductible. A flat amount you choose and will have to pay before the insurance company pays anything.
Percentage-based deductible. The amount you pay out-of-pocket is based on a percentage of the insured value of your home.
The amount you pay for the percentage-based deductible is not the same as the cost of fixing or replacing property when you have a claim.
For example, if your deductible is four percent and your home is insured for $100,000, you pay for the first $4,000 of damages. Some insurance companies offer policies with split deductibles, which means you have different deductible amounts for different types of claims. Ask your insurer about the details of your specific policy.
Consider coverage for sewers and drains
Your policy will have a definition to describe types of water damages covered. Unless your policy specifically states it covers damage from sewer and drain backup, you may want to add this feature to your policy.
Insure for unusual hazards where you live
Some acts of nature may not be covered in a standard homeowners insurance policy. If you live in an area frequently affected by floods or earthquakes, you should add coverage for this to your policy if you have not already. Talk to your insurance agent if you have questions. Sometimes the terms are tricky to understand.
Make sure your replacement cost dwelling coverage is right
If your policy doesn't provide for the actual replacement cost of your home, you may have to pay out-of-pocket the difference between what your insurance covers and what it costs to completely replace your home. This could be very expensive.
Talk through the coverage amounts with your insurance agent. Consider your appraised value, average square foot price and acts of nature in your area. Use your appraisal to determine the correct value and insure for that amount. You can also compute a value by finding the average square foot price for homes in your area and multiplying by the size of your home.
Get fair market value on claims 
Create a document to serve as a record of your valuables. Take video or photos of valuables as they appear in your home and consider obtaining a professional appraisal, too. Save these records to an encrypted external drive. Then store the records in a safe deposit box or other secure location away from your home.
Combine insurance coverage and save
You may qualify for discounts and save money if you use one insurer to bundle your home, auto and life insurance.
Whether you own or rent, LGFCU offers protection against theft or loss of your home, the valuable possessions and memories within it and more!