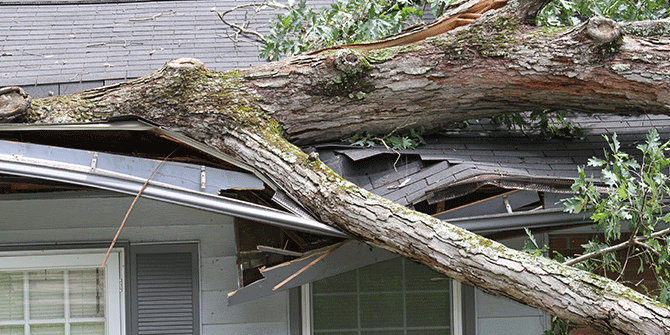 If your home or its contents become damaged, homeowners insurance can cover the cost of repairing, replacing or even rebuilding. Knowing a few key things about insuring your home can help you get the most out of your coverage.
Understanding homeowners insurance
Homeowners policies generally insure against certain types of damage to your property, damage to or theft of your belongings, and injuries that may happen to people who visit you. The insurance may cover other structures on your property and may pick up the tab if you're forced to leave your home and stay elsewhere as a result of damage to the home.  
Selecting the right homeowners insurance deductible
Know the type of deductible for your policy, since it's the portion you'll have to pay on a claim before your insurer pays its part. Your insurance company may offer two types of deductibles:
Dollar-amount deductible. A flat amount you choose and will have to pay before the insurance company pays anything.
Percentage-based deductible. The amount you pay out of pocket based on a percentage of the insured value of your home.
The amount you pay for the deductible is not the same as the cost of fixing or replacing your dwelling when you have a claim. For example, if your percentage-based deductible is 4% and your home is insured for $100,000, you pay the first $4,000 to cover damages.
Some insurance companies offer policies with split deductibles, which means you have different deductible amounts for different types of claims.
Talk to your insurer to make sure you have an appropriate deductible you can afford.
Make sure your dwelling coverage is enough
If your policy doesn't provide for the replacement cost of your home, in a worst case scenario, you'll have to pay out of pocket to get a new home. That's where adding replacement cost value (RCV) coverage can be beneficial. RCV is the amount of money it would take to repair your damaged home, or replace your home that has been destroyed, with the same or similar home in the current market.
The dwelling coverage should be re-evaluated every year and changed as necessary to account for the appreciation of your home.
Consider insuring for damage outside the standard policy
Many standard policies don't include coverage for damage due to water. However, the protection that additional policy coverage offers may save you time and money should something happen.
Sewers and drains. Unless your policy specifically states that it covers damage from sewer and drain backup, you may want to add this feature to your policy.
Unusual hazards. Some acts of nature, like flooding, are typically not covered in a standard homeowners insurance policy. Even if you don't live in a coastal region or other flood-prone zone, you could face damage and related expenses from rising water.
Shop around for the best plan
Talk to several different insurance companies about their policy options and how they address all the variables above. Keep in mind you may qualify for discounts and save money if you use one insurer to bundle your home and auto insurance.
The advice provided is for informational purposes only. Contact a financial advisor for additional guidance.