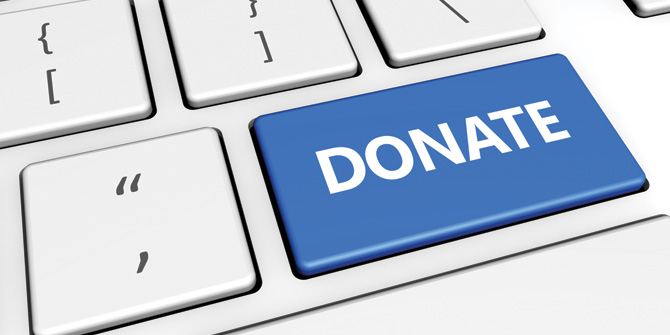 Whether you want to give to an animal rescue, feed the hungry or pour a bucket of ice water over your head, you have the potential to help charities do good things. For instance, giving money to a charity helps fund research for diseases, distribute food or care for stray pets. But giving money online could put you at risk for financial fraud. Follow these tips for safe online giving.
Get to know the charity
Before clicking the 'donate' button, take time to research your charity. Check both online and offline addresses. Don't assume anyone using an ".org" Web domain instead of a ".com" is a non-profit organization. Look for a physical address to avoid scammers, who may set up a fake website, raise a lot of money and then disappear. Having a physical address is not a guarantee of a legitimate organization, but use the information as a starting point, then check charity-rating agencies for more in-depth information.
Look for privacy and security protections
Read a charity's privacy policy to ensure it will protect your personal information. Before putting in your credit card number, find out how the charity plans to use your information. Be sure it will keep your information private and not share it with third parties.
Make sure the website has a secure connection. Look for a Web address that begins with "https" instead of "http". The 's' along with the image of a padlock lets you know the site uses encrypted — thus safer — connections. Without "https" anyone (not just thieves) can capture your login credentials - and more.
Choose the best payment method
When making your donation online it's better to use your credit card as credit cards typically offer fraud protection. Some charities offer the option to give via a third party payment provider from their website. Know that if you use a third party they may charge a fee to you or the charity. If so, avoid the fee and consider using BillPay to make a secure one-time payment or to set up a recurring payment. 
Don't feel pressured by social media
Twitter, Facebook, YouTube and other social media deliver heartwarming messages from charities in your social network feeds. While your friends may have donated as soon as they got the link, you shouldn't feel guilted to give by peers. Do what feels right to you.
The advice provided is for informational purposes only.