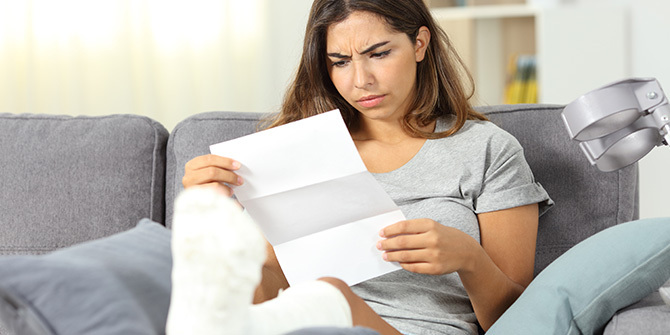 Dealing with medical debt can be a pain. Nonetheless, it's important to get a handle on it before the outstanding amount ends up on your credit report. Here's how to manage your medical debt before an already uncomfortable situation gets worse.
Review medical bills
When a bill arrives, check it out. This is especially important if it's one you weren't expecting.
Read your bill carefully. Be sure you recognize the name of the health care provider and confirm that you indeed received medical treatment on the day noted. For more complicated procedures, ask for an itemized bill. Verify each service to ensure there are no duplications or extraneous charges. If you have the option available to you, seek professional help with reviewing the medical codes on an expensive procedure. There could be savings you might've missed on your own.
Need to dispute a bill? Contact the health care provider directly. Refer to invoices and proofs of payment to pinpoint the issue. If the provider wants to see your documents, supply copies while keeping the originals for your records. Also check if your employee health insurance offers a medical bill review service.
Confirm your insurance coverage. Make sure your medical provider has your correct insurance information. Also check with your insurance company to confirm what is and isn't covered. A small mix-up can lead to big expenses.
Don't ignore bills. If you owe the bill, try to resolve it right away. If you delay and the bill ends up in collections, it can have a negative impact on your credit report. From there it might be difficult to get a lender to extend a line of credit at the most favorable rate, should you need a loan. If you don't owe the bill, dispute it immediately.
How can medical debt be reduced?
Pay the bill as soon as you can. In some cases, a large balance may make it difficult to pay the full amount all at once. If you're unable to pay in full right away, ask for payment options.
Renegotiate your bill. The hospital or medical provider may offer an installment plan with no interest. Hospitals and providers may renegotiate the outstanding balance down to a lower amount to entice you to pay in full sooner, especially if you can prove you're having financial difficulty.
Seek financial help. Check hospital guidelines for financial help, such as charity care. If you meet certain financial hardships, you may be eligible. This could reduce the amount owed, thus leaving you less to pay out of pocket.
Avoid charging medical bills. If you use your credit card to pay a medical bill and then can't pay off the debt in full when the credit card bill comes, you may be facing high interest rates. That could make it more difficult to pay and the medical debt will look like regular debt to other creditors.
If you have no other option for paying off the medical debt, consider applying for a personal loan. If approved, this loan could provide the cash you need to settle the bill sooner.
Medical debt reporting rules are in your favor
The credit reporting agencies give you a six-month grace period to resolve a medical charge-off before it appears on your credit report. Those charge-offs will be removed almost immediately. The process will be different for other types of charge-offs, though. The agencies also provide professional support for resolving disputes or errors, which may appear on your report.
Now through April 2021, you can get one free copy of your credit report online, once a week from each of the three major credit bureaus — Equifax, Experian and TransUnion.
Visit annualcreditreport.com to view and download your credit report. Once on the site, you'll need to complete the request form, select your reports and verify your information for security.
The change from the standard to a weekly credit report check comes at a time when COVID-19 has made it hard for many families to keep up with paying bills or to get approved for new loans. So, it's helpful to monitor credit reports more often to ensure your accounts reflect payment arrangements from creditors and to confirm there is no fraudulent activity.
Use these tips to help make it easier to take control of your medical debt. However, if you're having trouble managing your debt, call or visit your local branch to receive no-cost Financial Counseling.