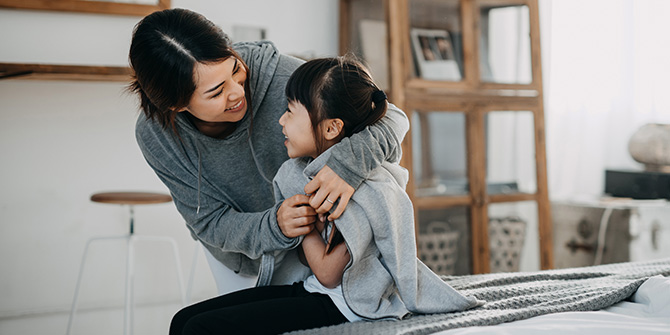 You can't be sure of specific life events — like when you'll die. The best you can do for yourself and your loved ones is to plan for their financial needs after you're gone. You can do that with the lasting gift of life insurance.
What is life insurance?
Life insurance is a contract that pays out a set amount of money after the death of the insured. Most people looking for life insurance typically search for a term or whole life policy.
Whole Life Insurance offers permanent coverage to help protect your family from the cost of final expenses, such as burial, mortgages, debt and more. Term Life Insurance can protect your family if you pass away during the specific term, or time period, the insurance covers.
Is life insurance important? 
Life insurance can help with expenses at a difficult time and into the future. Imagine your life and the lives of the people you care about. Now, imagine their lives without you. Quite possibly your family may face some or all of these things:
A loss of your earnings
The cost of a funeral
A mortgage payment on a single income
College expenses on a single income
For those left behind, financial hardship can be an even greater burden than grief. Knowing your family is cared for later can enhance your quality of life while you're still alive.
Are life insurance policies worth it?
Every family size can benefit from life insurance. Spouses, partners and children come to mind when you consider providing for others. Single with no dependents? Your life insurance needs may appear limited at first. But what if you have a disabled relative or aging parents to care for? A life insurance policy can even help meet the needs of your extended family.
Life insurance really serves the needs of many lives. Coverage for one spouse or partner may not be enough. If your spouse or partner doesn't work full time for a paycheck, don't ignore all they do for the household. Child care, household responsibilities, children's activities, and just being a parent all involve time and effort. This is on top of the loss of earned income that may happen.
How much life insurance should you get?
The amount of life insurance needed is a personal decision. Consider buying enough to pay off your mortgage and consumer debts, and to replace some or all of your income. If you want to pay for college for your children, add that in, too! You may be surprised to find coverage can be inexpensive and widely available. Costs will depend on your age, the ages of your spouse and children, debts, and projected funeral costs.
Not sure what gift to give? There's no better time than now to consider if a whole life policy or term life policy is right for you and your family. Get an online life insurance quote from TruStage now or if you would rather speak to an agent about your specific situation call 855.304.0821.
The advice provided is for informational purposes only. Contact your insurance advisor for additional guidance.
TruStage® insurance products and programs are made available through TruStage Insurance Agency LLC. Life insurance and AD&D insurance are issued by CMFG Life Insurance Company. The insurance offered is not a deposit and is not federally insured, sold or guaranteed by your Credit Union.