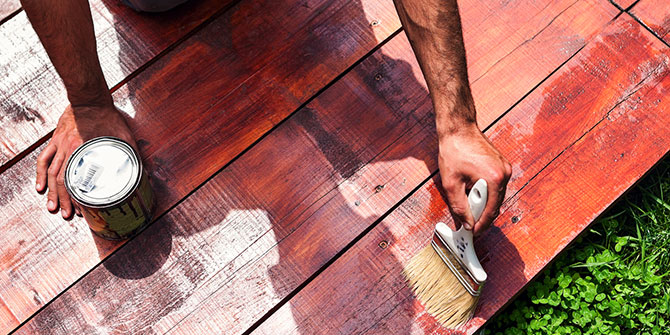 When you think of home improvements, you usually think of kitchen and bath projects. A major kitchen upgrade can cost you around $40,000 and a bath renovation over $15,000! Consider these home improvement projects to revitalize your home, add value, but not break the bank.
New doors, new face
Give your home a facelift with a new front door for less than $1,300 and a new garage door for around $1,500. These improvements will freshen the look of your home and you're likely to recoup 90 percent of the cost at resale. If you have a Homeowners Association (HOA) be sure to check in advance to make sure the changes you want to make meet their guidelines. Otherwise you could really be out a lot of money after your HOA fines you and directs you to replace the replacement door!
Give your yard a makeover
According to The American Society of Landscape Architects, new landscaping can add over 10 percent to the value of your home. Set a budget of about five percent of your home's value. Visit a few local nurseries to buy and plant some new trees, shrubs or other landscape features. Add fresh sod, or reseed and install flagstone or pavers for new walkways or a patio to finish. You can save money by doing some or all of the work yourself. 
Upgrade the front of your house
Stone veneer added to a portion of your street-facing façade can be a dramatic upgrade. Materials and installation cost around $7,000. The 2016 Remodeling Magazine survey says you can expect to see about 92 percent of your costs come back to you at resale.
Add a deck 
A new deck can make outside entertaining your new pastime. A standard wood deck costs an average of $9,200 to install. A deck is a lifestyle enhancement that may make your home more attractive to buyers at resale. You can expect to recoup close to 80 percent of your costs for a deck addition.
Insulate your attic
At an average cost of $1,225, installing new insulation can pay for itself in two ways: a return of up to 98 percent of your investment at resale and improved heating and cooling costs while you live in the home. If you have a crawl space, consider replacing insulation there, too.
If you plan to use a licensed professional for your project, ask family and friends for referrals. Make sure you research reviews and ratings about the contractor. Then contact several contractors to get at least three estimates for the project. Make your choice based on references, your comfort level with the contractor as well as price.
Don't forget LGFCU is here for you. Consider us to help finance your home improvement project with our low-interest rate home equity line of credit (HELOC).