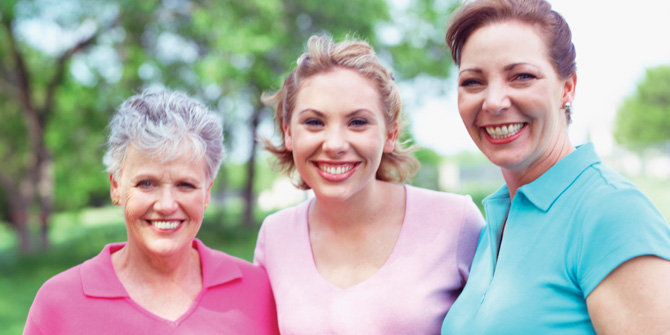 If you're in your forties or fifties and find yourself responsible for providing financial support for your children as well as a parent, you're a member of the sandwich generation. If it's challenging and you're looking for a little financial wiggle room, here are some strategies to help.
Take care of yourself first 
The latest data from Pew Research shows almost 50 percent of Generation X and early baby boomers provide some financial support to an aging parent and a teen. While a lot of responsibility may fall to you, it's important not to forgo your own financial needs.
First, save money from every paycheck to build an emergency fund. Put away at least three to six months of living expenses. It's also important to make automatic contributions to fund your own retirement. If your employer matches contributions to your 401(k) retirement plan, take full advantage and contribute what you can to get the full match. It's free money for your future!
And it's just as important to make a budget and stick to it. Let LGFCU's Compass online money management resource help you keep your finances in check. Whether you're at your desk, on the couch or on the go, Compass lets you see what you're spending and where. You may find areas where you can cut back in leisure spending. Then you'll free up funds for your other financial goals.
Rethink how to pay for college
After taking care of yourself, if you can, put a little aside to pay toward your child's education. When it comes to your teen and college, be open and honest about what you can afford. Then work out a savings plan together. This plan needs to address not only tuition costs, but other related costs, like books or a car. When the time is right, your Credit Union can help with great rates on a used car loan and help you find the best auto insurance rates to accommodate your young driver.
With college tuition, offer what money you can. Have your child help pay for school by working part-time and applying for loans, financial aid, grants and scholarships, like an LGFCU scholarship. Each year LGFCU awards $1,000 scholarships to eligible members who are graduating high schoolers and students attending colleges, universities and graduate schools. Visit The College Foundation of North Carolina with your child when you begin talking about plans for college.
Get help from your parent
To find more financial balance in the home, talk with your parent about what resources they can contribute. If he has retirement savings and income, he may be able to contribute some to help offset part of the household expenses.
As your parent gets older, it's likely medical costs will start to add up. Medicare won't cover everything. If your parent doesn't have retiree health insurance from his former employer, a Medicare Supplement Plan (Medigap) can help pay for services not fully covered by Medicare. For prescription drug coverage, encourage your parent to sign up for Medicare Part D. These coverages may mean more spent each month, but they offer protection against larger out-of-pocket costs.
Also, find out how your parent wants to be cared for in case he needs assistance or experiences a serious illness. Does he prefer in-home care or to move to an assisted living facility? What are their options if they need nursing care? Discuss costs and your parent's ability to pay for care through Medicare or long-term care insurance. You also want to encourage him to get or update his will and power of attorney for healthcare and finances.
Find resources for seniors
You may be feeling the squeeze with your finances, but there are resources for seniors that may help you find a little more relief in your household.
Being a member of the sandwich generation doesn't mean you either choose to care for your family or for yourself. You can do both. A proactive approach and early communication is essential to meeting your financial needs.
The advice provided is for informational purposes only. Contact a financial advisor or attorney for additional guidance.