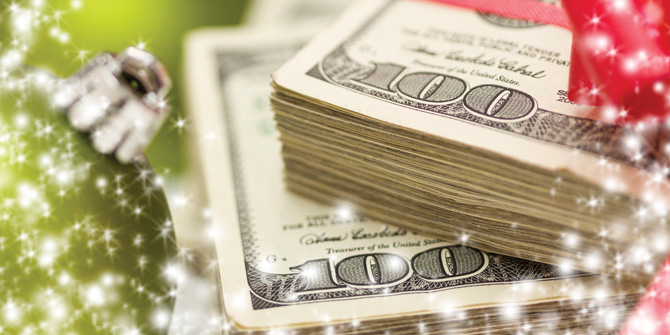 Not sure what to give that hard to buy for teen in your life? High school kids like money. So forget the sweater they'll never wear! Go straight for the thing that will have the most impact on them, either now or in the future.
Let them choose a gift they can use 
Gift cards. Give a teen a taste of financial freedom with a gift card. This gives them the choice to spend their money on what they want, when they want. They can use the card just like they would use a debit card. Plus, it's just as easy for you to get as it is for you to give. Find out their favorite place to shop and get a gift card from the store. For even more flexibility, you can purchase an LGFCU Visa® Gift Card through Member Connect or at your nearest branch.
Boost savings. Make a deposit to your teen's Zard Account this month. This way, when they're ready to buy their class ring or pay for prom, they'll be able to use their savings to help cover the cost. Plus, the longer the money stays in the account, the more time they will have to earn dividends on their savings. And that could mean a few extra dollars for that super-stretch limo. 
Give cash. Just like with the gift card, cash can be used anywhere for anything. It doesn't have an expiration date or hidden fees. Your teen can lump together cash gifts in order to purchase a bigger item. Saving and investing is also an option for cash and helps them develop money habits they'll use later.
Get creative if you're going to hand over cash. Decorate an empty tissue box. Tape several bills together and stuff them inside the box. The youth gets to pull out a string of bills in the same way that they would pull out a single tissue.
Or write a short note to the teen with your personal financial advice. Add it to a picture frame along with your bills. Without even realizing it, your teen gets two financial gifts for the price of one.
Help cover the cost of school
Contribute to a college savings plan. According to the College Foundation of North Carolina (CFNC), the cost of college tuition will continue to rise in the coming years, making it difficult for some families to pay for school. That's where a contribution to a 529 college savings plan can help. The funds in a 529 college savings plan can only go toward paying for college. This means any contribution is going to help reduce the financial burden of college expenses.
Contribute to a Coverdell. The Coverdell Education Savings Account is a lot like the 529 Plan, but offers many more opportunities for use. The funds can be used to pay for elementary, middle school, high school and college costs. Give a copy of your donation with a sweatshirt or other memorabilia from their school to make your gift a little more personal.
Not sure what to give the teen who wants everything but tells you nothing? Money is always a good fit.
The advice provided is for information purposes only. Contact your financial advisor for additional guidance.