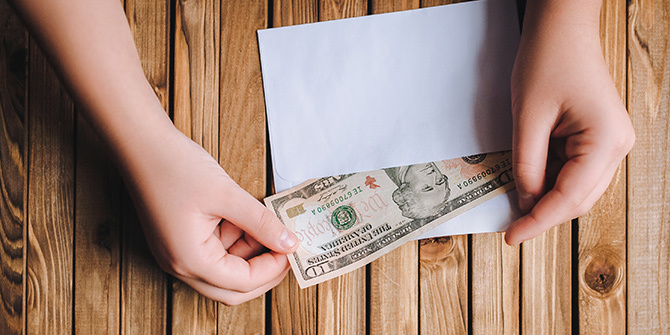 Not sure what to give the teen in your life? Forget the sweater that won't be worn! Go straight for the thing that will have the most financial impact, either now or in the future.
Let teens choose a gift for use now
Gift cards. Give a teen a taste of financial freedom with a gift card, to spend anytime. The card can be used just like a debit card. Plus, it's just as easy to get as it is to give. For greater flexibility, you can purchase a gift card.
Give cash. As with the gift card, cash can be used anywhere for anything. It doesn't have an expiration date or hidden fees. Your teen can lump together cash gifts to purchase something which costs more.
If you're going this route, try to be creative. Think about withdrawing cash in dollar coins or padding the inside of a gift basket with bills. You can also write a note with financial advice, put it in a frame and make that part of the gift. Your teen will get two great gifts in one — one for immediate use and one that will last forever.
Give a lesson in long-term thinking
If you write that note, you're likely to mention that saving and investing are important money habits to develop as the teen grows. Here are some ways you can help move that learning along.
Boost savings. Make a deposit to your teen's savings account. The teen can see the savings grow to cover high-ticket items like a class ring or prom. Of course, the longer the money stays in the account, the more time it has to earn dividends on the savings. And that could mean a few extra dollars for something special later. 
Help cover the cost of college
In between the immediate gratification of cash or a gift card and long-term savings, there is the future reality of college tuition.
Contribute to a college savings plan. According to the College Foundation of North Carolina (CFNC), the cost of college tuition continues to rise, making it difficult for some families to pay for school. That's where a contribution to a 529 college savings account can help. Funds can only go toward paying for college, thereby helping to reduce the financial burden of college expenses.
The Coverdell Education Savings Account is a lot like the 529 Account, but offers more opportunities for use. The money can be used to pay for elementary, middle or high school as well as college tuition, tax-free. Give a copy of your donation with memorabilia from your teen's school of choice to make your gift a little more personal.
Not sure what to give the teen who wants everything, but tells you nothing? Money —and lessons in how to manage it — can be the perfect gifts.
The advice provided is for informational purposes only.