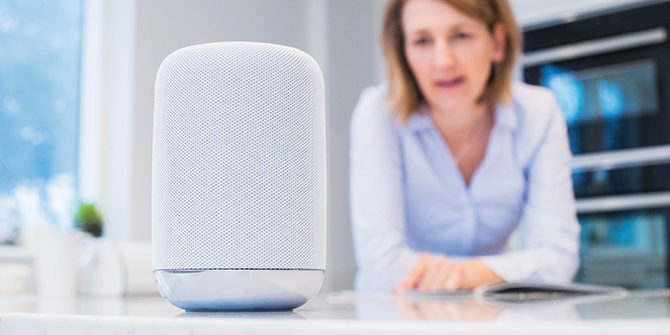 We bring them into our homes with increasing frequency; these cool new gadgets are designed to make nearly every aspect of our lives easier. Things like virtual assistants (think Amazon Echo smart speaker) that can answer most questions, thermostats you remotely control via your smartphone, wearable devices that track your every step — even smart pillows that will detect snoring and gently vibrate to nudge you to change your sleep position without waking you.
But there's a cost to this incredibly smart "internet of things" technology. And it's not just monetary. The fact is, with each internet-linked device you welcome into your home, you could be opening the door to a cybersecurity attack. Wow, indeed!
Take these steps today to help ensure you're not letting a high-tech Trojan horse into your home.
Guard your home's Wi-Fi network
It's absolutely essential to make sure your home's wireless network is protected. Start by using the Wi-Fi Protected Access III — or WPA3, if available — protocol and having a strong password. Also, experts advise you to give your Wi-Fi network an obscure name, or Service Set Identifier (SSID). Don't give attackers any personal information they can use to their benefit. For instance, don't call it "[Your Name] Home Wi-Fi." Instead, assign your network a random name.
While you're at it, create a separate SSID and password for guests. This allows your guests to get online, while reducing the chances their devices might infect your home network with malware or a virus.
Use strong passwords
Generally speaking, all devices can benefit from the creation of strong passwords or passphrases. According to the National Cyber Security Alliance (NCSA), your passwords are either your first line of defense against hackers, or they're an open window that lets them slip through.
Consider this: The NCSA says that a lowercase, six-character password takes a hacker around 10 minutes to figure out. Add four more characters and you extend the time of that heist by 45,000 years! Bottom line? Create long, complex passwords you can readily remember.
Make your password a sentence, based on words unique to you. Focus on positive sentences unique to you, such as, "My son was born on August 12." Your password might look something like MYS0NWUZBoRN0N_128. On many sites, you can even use spaces in passwords. 

Change default passwords on all applicable devices, using the above standard. 
Research before you buy
Researching is a simple, yet often overlooked precaution. That in mind, it's something you should do with every gadget you're considering. According to experts, many smart home devices are notoriously unsecure, making it easy for hackers to exploit those vulnerabilities and gain access to your home, data and family. The fact is, when it comes to these devices, a lot of manufacturers may not make security a top priority.
To protect yourself, do a little homework to make sure the device you're thinking of buying doesn't have any reported security and privacy issues. Lastly, if you do buy a device, keep the software up to date. Lots of manufacturers have fixes or patches waiting for you right out of the box.
Is your personal data at risk?
Add these steps to better protect your personal information and reduce the chances of a data breach, an incident where your personal information has been exposed to the public:
Lock down your login. Fortify your online accounts by enabling the strongest authentication tools available, such as biometrics, security keys or a unique one-time passcode through an app on your phone. Services like Gmail and Twitter allow you to sign in with an app on your smartphone, or provide a special passcode in a text once you've entered your username and password. These steps are known as two-factor authentication (2FA). Such a precaution can help prevent losing control of sensitive messages or photos you send.
Safely destroy confidential papers. LGFCU hosts free paper shredding events in communities across North Carolina. Paper shredding is the safest way to dispose of confidential and personal documents containing Social Security numbers, account numbers, birth dates, passwords or PINs, signatures, addresses or phone numbers. Check regularly for shred events near you.
Check to see if you have an account that's been compromised. Visit the Have I Been Pwned website to see if your personal information has been compromised by data breaches.
Remember, when it comes to fortifying your smart devices and digital presence, you don't want to horse around. Turn to your Credit Union for more pro tips on how to keep your devices secure anytime, anywhere.
The advice provided is for informational purposes only.