Jobs at Local Government and Civic FCU
Considering a career at Local Government Federal Credit Union (LGFCU) or Civic Federal Credit Union? Come join a group of talented professionals who put our mission – "to improve the lives of our members" – above all else.
LGFCU and Civic serve North Carolina's local government employees, elected and appointed officials, volunteers and their families. We've made our member-centric approach the focus of everything we do.
If you're a job candidate interested in working in an organization that promotes the philosophy of "people helping people," we invite you to explore our opportunities.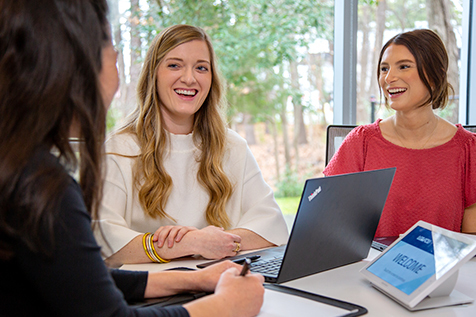 ---
Interested in a position?
We encourage you to submit a resume, cover letter and your salary requirements when applying for any open position. You can get the inside scoop on what it's like to be a Credit Union employee at Life at the Credit Union.
Job listings
Please note: If you are interested in Member Support Services, Teller or other branch positions, please contact your local branch for more information. If you're unable to apply online or have questions, please email careers@lgfcu.org.
Didn't find what you were looking for?
If the jobs above don't include a position that interests you, share your information and subscribe to receive notifications of new job opportunities that match your interest.
---
Local Government and Civic Federal Credit Unions are committed to providing equal employment opportunity for all persons regardless of race, color, religion, national origin, gender, age, marital status or disability. LGFCU and Civic hire and promote individuals solely based on their qualifications for the job to be filled.
Equal Opportunity Employer m/f/v/d
---
Where you'll find us
Wake Forest Road
Civic Federal Credit Union
3600 Wake Forest Road
Raleigh, NC 27609
Parking
Visitors may park in the outside lot or in the guest spaces on the first level of the parking deck.
Quorum Center
Local Government Federal Credit Union
323 West Jones Street, Suite 600
Raleigh, NC 27603
Parking
Visitors may park in the Quorum Center parking deck, which is attached to the Quorum Center, in any unmarked parking space. For precise directions to the entrance of the deck, use "154 Harrington Street, Raleigh, NC 27603" in your GPS.