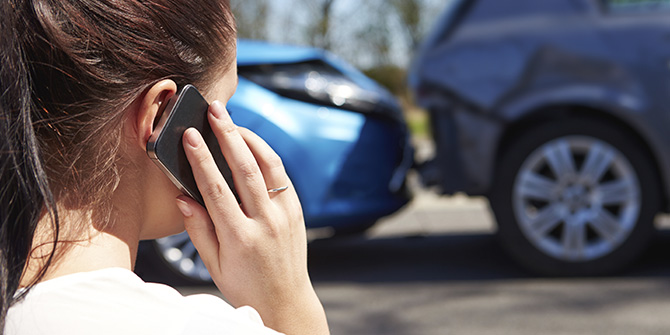 According to the National Highway Traffic Safety Association, more than 5 million police-reported motor vehicle crashes occur each year, with an estimated 10 million or more that go unreported. How you react in the event of a car accident can prevent further injuries, reduce costs, and accelerate the clean up and repair process.
Call the police and your insurance company
It's much easier to pursue a claim if you have a police report, so call 911 immediately. While it may be tempting to settle the cost of damages at the scene, doing so could cause a number of problems.
You could underestimate the extent of the damage and be stuck with a hefty bill. Or the other driver could have a change of heart and report the accident to his or her insurance company after all. The other driver may even claim injuries that weren't apparent at the scene of the accident. Your insurance company could end up paying a hefty settlement, or worse, you could be dragged into a lawsuit. Make sure your insurance company has your version of what happened.
Go to your glove box
This is where most people keep their insurance information. Take it out and look at the back. Typically, it offers a list of about eight to 10 items to check.
Or better yet, plan ahead and download WreckCheck to your smartphone. WreckCheck is a free mobile app provided by the National Association of Insurance Commissioners. It takes you step-by-step through everything you need to do at the scene.
Don't say too much
While it's important to share and attain the necessary information at the scene of the accident, there should be no admission of fault on either side—just an exchange of details. It's the insurance adjuster's job to get the information from impacted parties.
Know what your insurance covers
The insurance process will be easier if you're already familiar with the details of your coverage. Don't wait until after an accident to find out if your policy doesn't automatically cover costs for towing or a replacement rental car. Generally, for only a dollar or two extra each month, you can add coverage for rental car reimbursement, which is extremely valuable when your car is in the repair shop.
No one wants to be in a car accident. But with a little bit of advance preparation and a little bit of good sense, if it should happen, you'll be ready.