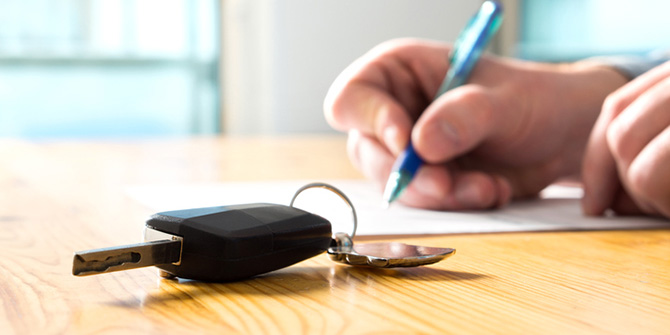 What happens when you refinance a car? Refinancing your auto loan may lead to a lower monthly payment, a shorter term or both. Your outcome depends on a wide range of factors, including the value of your vehicle, how much you owe on your current loan and your credit standing. If any of these factors have changed since you bought your car, you owe it to yourself to find out why refinancing might be a good idea.
Your credit score improves
Your score not only could determine the interest rate on your car loan; it may impact the premium you pay for auto insurance and what other fees your lender might charge. If your current credit score is higher than it was when you bought your car, refinancing could be a good option. Ask your lender to consider giving you a lower rate.
You didn't shop around before you borrowed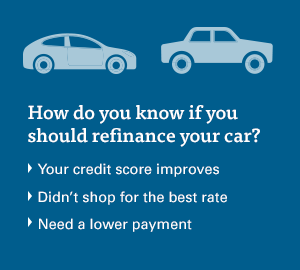 If you didn't look to more than one lender for a car loan before buying, it's worth doing so now. By getting multiple offers you can ensure you're getting the best rate available for your auto loan. These days you may be able to go online and quickly provide your information to get quotes from several lenders at once. Instead of checking your credit report, some lenders may instead rely on other factors like your self-reported monthly expenses and annual income, as well as any income from other sources. When you refinance, you're typically applying for a used auto loan.
You need to modify your monthly payment
You may be in a much better financial situation now than when you bought your car. You may have a better job or more financial security. You may have paid off credit card or other debt. Less debt frees up how much you can pay per month. Paying more over a shorter-term loan, when combined with the lower interest rates that often come with a loan refinance, can save you a lot of money over the long haul.
On the other hand, if money is tight, think about refinancing into a longer-term loan. While you might end up paying more in interest, you can reduce your monthly payments and free up money you need right now.
You're ready to buy out your car lease
If your car lease is nearing its end and you want to keep the car, it could make sense to finance the vehicle at a lower rate. Check your vehicle contract to determine the residual value or buy-out amount. If it is less than the car's current value, you may benefit from a refinance.
Whatever the particulars of your situation, consider all the factors at play. Use a car refinancing calculator to see what you might save. Also, don't forget to look for other ways to save by checking for lower auto insurance rates.
APR = Annual Percentage Rate. Used Auto Loan is subject to approval. Rates and credit limit are evaluated based on credit history. For used vehicles up to 10 years old, mileage may not exceed 150,000 at time of loan origination. LGFCU will finance 100% of the J.D. Power retail value, plus an additional 20% to cover purchaserelated expenses such as tax, tags and extended warranties. Cash-out is not permitted on purchase transactions and cash-out refinance transactions are limited to a maximum Loan to Value of 100%. Lending is limited to residents of NC, SC, GA, TN and VA. No pre-payment penalties. Vehicles with branded (flooded, salvaged or reconstructed) titles or motorcycles, boats, RVs and commercial vehicles are not acceptable collateral. Product availability and current rates may be changed at any time at the discretion of the Board of Directors. Borrower must maintain collision and comprehensive insurance protection with a maximum deductible of $1,000 for the life of the loan. Must be age 18 or older to qualify for lending services.
TruStage® Auto Insurance program is offered by TruStage Insurance Agency LLC and issued by leading insurance companies. Discounts are not available in all states and discounts vary by state. The insurance offered is not a deposit and is not federally insured. This coverage is not sold or guaranteed by your Credit Union.