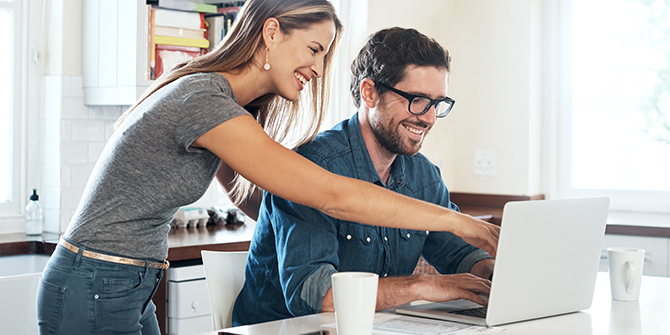 Today you can buy just about anything online with the tap of a finger or the click of a mouse. That goes for cars, too. Whether you're buying a new or used vehicle, you can do everything from researching cars to requesting price quotes, all from the comfort of your living room.
Find your best loan option
Before you start searching, decide how much you want to spend. This may help you determine if a new or used car is in your future. Use online financial calculators to help figure this out as well as compare monthly payments by loan term or compare two vehicles. After your budget is in place, create a list of the features you want in your car. This will help you refine your search.
Next, secure your auto financing. While a dealership is more than happy to lend you money, the terms will likely benefit their bottom line more than yours. Your Credit Union's rates and terms on a New Auto Loan or Used Auto Loan is the better choice. Even if you're approved for other financing and it turns out the dealership can beat it, you're still in a better position to negotiate.
Check dealer sites to find your match
No time or interest in negotiating a price with car dealers? Let your Credit Union representative do the haggling for you! Our Car Buying Service allows you the drive a brand-new car without shopping across websites or paying unecessary fees. You choose the features you want and how you want your new car delivered. You can even trade in an auto online with us if you need to.
If you're leaning toward a used car purchase, there are literally hundreds of car-buying websites and individual sellers offering everything from product reviews to negotiating tactics. Do your research to ensure the source is trusted. Make sure any car you're thinking about buying from an online source is a good fit, since you'll probably be in it for a few years.
Request free quotes from online dealers
LGFCU can also help you find new or used car values from the National Automobile Dealers Association (NADA). You can compare the values with free online quotes you request from online sites to get the best pricing on your vehicle.
The more dealers you work with, the more likely it is that someone will sell to you at the lowest possible price. When you speak with a salesperson, be upfront about your decision to work with multiple dealerships. Request the bottom line price, including any dealer fees.
The salesperson will want to know if you have a trade-in and may ask what you want the monthly payment to be. Don't negotiate a purchase price based on a monthly payment. This is also not the time to talk about financing. Be firm. You want a price —the rest doesn't matter at that moment.
Use these tips to get a head start when you're ready to buy a car online!
The advice provided is for informational purposes only.