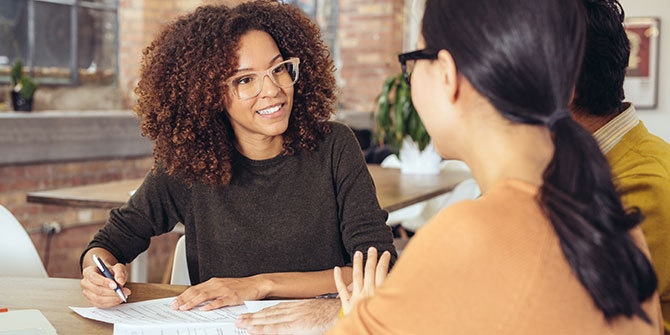 If you haven't yet created a will, there are plenty of local estate planning attorneys available if you prefer face-to-face assistance. Or, online resources might be an option to help you quickly get started. After all, everyone needs a will. It allows you to specify how you want your assets distributed upon your death. Decide which method is right for you.
Choose to make a will with a lawyer
A few years ago, LGFCU member Alice S. decided it was time to put her affairs in order. Alice isn't sick and she isn't dying. She is not married and has no children. But she does have assets that will need to be distributed after her death. For Alice, those reasons made it the right time to create a will.
"Making a will had been on my mind for some time. Then one day I thought to myself, 'Go ahead and take care of it,'" Alice recalled.
Getting the advice of an attorney in your area may allow you to work with someone who understands your personal situation. The advice could prove useful in writing a more customized will and in reviewing the document. Since wills need to be updated over time, working with a local attorney may reduce the risk of your will becoming outdated without your realizing it.
Alice called her Credit Union and made an appointment with an attorney. The Credit Union's Estate Planning Essentials program is an affordable way for members to get help from a local attorney with creating a will and other important estate planning documents.
"I hope to live a very long time, but I know I need to have a plan in place. I have very specific wishes about what I want to happen after I'm gone," said Alice. "I need to take responsibility for that happening. I don't want to put my family in a position of stressing about not knowing exactly what to do."
She received a checklist of documents to bring to the meeting. The list allowed her to take stock of her assets and other possessions, and name specific beneficiaries. Knowing exactly what she needed to focus on made her appointment go much smoother, she said.
Benefits of a do-it-yourself (DIY) will
You can make a will without a lawyer. This approach may be fine if you have straightforward needs, such as few assets to distribute. There are plenty of websites where you can complete a will using a template, often for less than the cost of visiting an attorney. Plus, a DIY will can typically be completed in less time than meeting with a lawyer.
With an online will, you fill in the blanks on a standard form or answer a series of questions used to create your document.
If your situation is more complicated, you may benefit from extra legal advice. Some sites have attorneys available to provide assistance, depending on the will package you select. As a result, you have everything you need at your fingertips to create a legal expression of your wishes. This can be done from the comfort of your home at a time that's convenient for you.
Consider in-person help
Beyond the big details, consulting a local attorney may help protect against missing smaller details. Things like a blank line not filled in, a missing signature, or a problem with witnesses or beneficiaries can lead to an invalid will. In this case, your assets will be treated as if you did not have a will. The state may take over and settle your estate.
A local attorney may also prove valuable if you have a complicated situation such as having disabled or dependent children, owning assets in several states, or even if you've had more than one marriage.
Tips for preparing a will
Whether you're preparing your will in person or online, make the process smoother by gathering the following information in advance:
Assets (e.g., real estate; savings, investments and retirement plan accounts; and life insurance policies).
Debts (e.g., all mortgages, car loans and credit cards).
Names, addresses and birth dates for you and your spouse/partner, if applicable; your children and proposed guardians, if necessary; and the executor of your will. 
By creating a will, Alice's final wishes — from what to do with her home to who inherits her car — are clear. Also, there is no added burden on her family who may otherwise be unclear about her intentions.
"Getting the will prepared gave me peace of mind," Alice said.
After you've created your will, be sure to review your beneficiaries annually or any time you have a major life event.
Regardless of the size of your estate, turn to your Credit Union for affordable help creating your will.