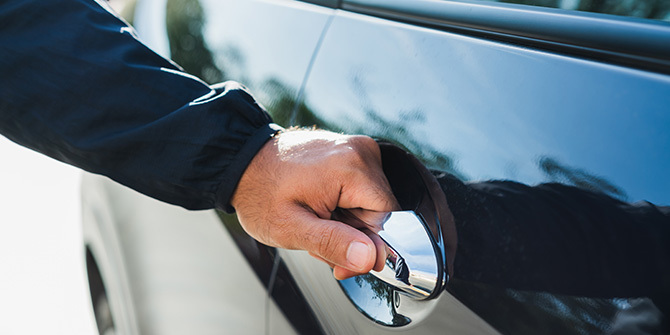 Before you walk into the auto dealership, the best thing you can do for yourself is secure the financing for your car loan in advance. That way, you can take your time and familiarize yourself with the terms of the loan without pressure from a salesperson or the tempting new car smell to distract you. If you do plan to use dealer financing on your vehicle, use these tips to help you avoid auto-financing pitfalls.
Consider the entire cost
One of the most common tactics salespeople use to ensure you drive away with the vehicle you want, even if you can't afford it, is to lower your monthly payment. The dealer is not helping you. Your salesperson simply extends the length of your loan. This means you'll pay more interest in the long run. Consider an auto loan calculator to give you an idea of the total cost of your vehicle, including monthly payments and the total cost of the loan before you settle on a specific car.
Understand leasing contracts
Leasing a car puts you into a new auto at a price that is typically less than financing a vehicle. However, leasing scams are common. One of the most frequent pitfalls with lease agreements is the dealer's promise to get you out of your existing contract no matter how much you still owe. In this scenario, the dealer pays off penalties associated with breaking your lease early.
The dealer, however, recoups the money paid to the finance company by rolling it into the cost of your new auto purchase. Essentially, you're paying for two cars. Avoid this situation by keeping up with existing lease payments. If you're having trouble making your monthly payments, apply for a used car loan with a lower rate.  
Shop around
Know what your current car is worth. Check its trade-in value before you get to the dealer. While you're searching online, you can also price out what your next new or used car might cost. Then shop your trade-in around to ensure you're getting what your car is worth, if not more. Your trade-in is a good way to bring down the price of your next car.
Be patient and consider everything a salesperson tells you, so you don't miss key details. If a new car is in your future, you could turn to an online car buying service, which lets you skip the showrooms. You pick the car and the features, and the service negotiates the best deal on your behalf. This way you still find the wheels you want at an affordable price, all without the possibility of being taken for a ride by a dealer.
Use these tips to avoid financing pitfalls that could cost you your money or your car.
The advice provided is for informational purposes only. Contact a financial advisor for additional guidance.
Used Auto Loan is subject to approval. APR = Annual Percentage Rate. Vehicles may not be older than 10 years or have mileage in excess of 150,000 at time of loan origination. Loan terms up to 72 months are available for used vehicles 5 years of age or less with mileage less than 100,000. Loan terms are limited to a maximum of 48 months for vehicle models between 6 and 10 years old, or with mileage that exceeds 100,000 up to maximum of 150,000. LGFCU will finance 100% of the NADA value, plus an additional 10% to cover purchase-related expenses such as tax, tags and extended warranties. Cash-out is not permitted on purchase transactions and cash-out refinance transactions are limited to a maximum Loan to Value of 100%. Lending is limited to residents of NC, SC, GA, TN and VA. No pre-payment penalties. Vehicles with branded (flooded, salvaged or reconstructed) titles or motorcycles, boats, RVs and commercial vehicles are not acceptable collateral. Product availability and current rates may be changed at any time at the discretion of the Board of Directors. Borrower must maintain collision and comprehensive insurance protection with a maximum deductible of $1,000 for the life of the loan. Must be age 18 or older to qualify for lending services.