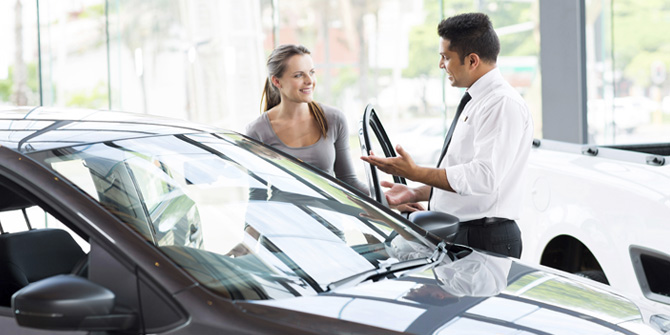 Ready to roll? If you're in the market for your first brand new car, here are five ways to make your path to ownership a little less bumpy.
Figure out what you can afford
Start by identifying fixed monthly expenses like rent or mortgage, utilities, health insurance, debt and food. From there estimate how much you want to pay in a monthly car payment. Also consider the costs of insurance, gas and periodic maintenance. Remember, if you have an older car, your taxes and insurance may increase substantially when you buy brand new. In addition, you may have to pay more for a higher grade of gasoline.
Subtract your monthly fixed expenses from your monthly take home pay. What's left should give you an idea of the maximum you can afford to pay on a monthly car loan. You may find the amount you want to pay and what you can afford are different. It's always better to pay the lower of the two amounts to ensure you still have something to build up your savings fund.
Our auto calculators are an easy way to help you figure out how much you can afford to spend on a car, what your loan payments will be or even how to pay off your auto loan faster!
Research vehicle options online
There are plenty of websites designed to help you research and read car reviews. Use our Chrome Data service to compare vehicle specs and prices, incentives and rebate options. If you currently have a car you want to trade in, now is the time to see how much it's worth, too. Chrome Data also gives you access to the National Automobile Dealers Association (NADA) used car values.
Apply for a loan
Get pre-approved for a car loan prior to visiting a dealership. Look into the low fixed rates on LGFCU's New Auto Loan to determine your best option. You may have more negotiating power on interest rates. Visit www.annualcreditreport.com to ensure you don't have any outstanding negative issues in your credit history before applying for a car loan. If you do, fix them right away so you're eligible for the best rates.
The dealer may have a better rate than your pre-approved rate, but when you combine the auto loan rate with our Auto Power program, you may find that dealing with a single lender makes the new car buying process a lot easier. Auto Power gives you a blank, pre-approved check up to a specific dollar amount for the purchase of a new vehicle.
Prioritize vehicle needs and wants
Keep your monthly budget in mind as you pick vehicle extras. You may want a Wi-Fi hotspot in the car to keep young children occupied on long trips, but the peace of mind an extended warranty offers may be what you need. Likewise, you may want the sports package, but do you really need it?
An always-on connection or sportier look may mean higher monthly car costs. Go back to your budget to find more savings, if necessary, or skip the wanted, but not needed, features. Consider aftermarket add-ons to save a little money on your car purchase up front, being careful not to void original warranties.
Get ready to shop
Search for the perfect vehicle yourself or let us do the work. Our New-Car Buying Service let's you search for cars by make/model or features. Build your own car with your choice of desired options including color and special packages. Then a Credit Union representative will search to find the vehicle that matches your specifications. Once you choose, the vehicle is delivered to your home, office or nearest branch. Charges may apply for out of state deliveries. This option is only available for states sharing a border with North Carolina.