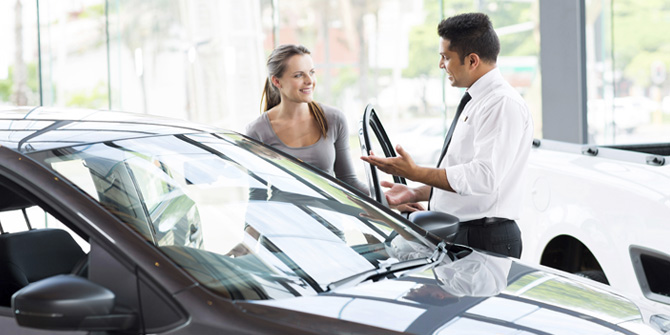 Ready to roll? If you're in the market for your first brand-new car, here are five ways to make your path to ownership a little less bumpy.
Figure out what you can afford
Look at your budget. Identify fixed monthly expenses like rent or mortgage, utilities, health insurance, debt and food. Also consider the costs of auto insurance, gas and periodic maintenance. Remember, if you currently have an older car, your taxes and insurance may increase substantially when you buy new.
Use an auto calculator to help you figure out how much you can afford to spend on a car and what your loan payments will be. You may find the amount you're willing to pay for your preferred new vehicle and what you can afford are different. It's always better to pay the lower of the two amounts to ensure you still have money to build up your savings fund.
Check your credit
Know what's on your credit report. Those details tell lenders if you're a good or bad credit risk. Having a good credit history may open the door to a lower interest rate. If you have issues in your credit background, you could be faced with a higher interest rate, making it difficult for you to afford the new car you want.
You can get a free credit report online, once a week, from each of the three major credit bureaus — Equifax, Experian and TransUnion. Visit annualcreditreport.com to view and download your credit report. Once there, you'll need to complete the request form, select your reports, and verify your information for security purposes.
If you have negative issues in your credit background, try to get those things fixed before applying for an auto loan. Otherwise, you may need to wait awhile before making your purchase, or consider a less expensive new car.
Apply for a loan
It's better to get pre-approved for a new car loan prior to visiting a dealership. This could give you more negotiating power on interest rates. It's likely the dealer will try to get you a lower rate. However, you may find that working with a single lender for an auto loan and auto insurance makes your pre-approved rate more appealing. Your loan rate may also be impacted if you decide to lease or finance a new auto.
Get ready to shop
Today you can buy your car with a few keystrokes. There are websites dedicated to car reviews and online car values services where you can compare vehicle specs and prices, incentives and rebate options. If you currently have a car you want to trade in, now is the time to see how much it's worth too.
You can search for the perfect vehicle yourself or let a car-buying service do the work for you. Once you choose the vehicle and features you want, the service delivers your car to your home or office.
Use these tips to make your new car-buying journey a little smoother.
The advice provided is for informational purposes only.