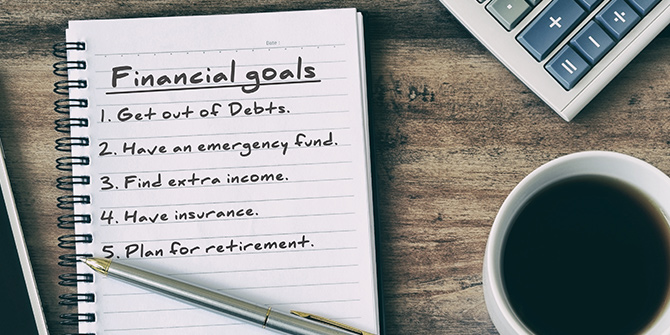 There's nothing like the power of positive thinking. A positive attitude may make it easier to stay focused on achieving your financial goals. Here are a few tricks you can use to create a happier financial future for yourself. 
Picture your achievements
Create a financial vision board. Think about your financial goals, such as erasing debt or saving up for your dream vacation, then add pictures and words to represent your ideal financial life.
Putting together your vision board may be as simple as using an old magazine to cut and paste pictures, or using a low- or no-cost app. Many free versions come with templates to help you create basic boards that include pictures, words and music. You may have to pay a fee for a premium account for greater customization.
If you choose to use an app, check the app's security settings and user ratings to make sure you're getting a safe product. When using a smartphone or tablet, data fees may apply so check with your service provider.
No matter which approach you select, use the vision board as a creative outlet and make it all about what you want to achieve.
Make it personal
Use an online personal money manager to visualize your current financial situation. Compass by LGFCU our complimentary money management service, shows all your financial information as interactive images so it's easy to see where your money is going. From there you'll be able to cut spending or eliminate waste, moving you even closer to achieving the financial future you'd like to see.
Write down your money mantra 
Keep the power of positive thinking going with a money mantra, a positive statement of what you want. When applied to your finances, a money mantra can help you keep the focus on your financial picture.
Experiment with a mantra like, "I will be debt-free in a year," or write your own short, powerful statement and say it out loud a few times a day. For added reminders, make it a screen saver on your phone, tablet or computer to help keep your goals in mind.
Find a money buddy 
Ask a friend or family member to help hold you accountable to your financial goals. This is your money buddy. They are a:
Positive support system. If you're about to fall off the savings wagon, they can help you stay on track. 
Second set of eyes. Someone to help you reevaluate after a financial set back. 
Financial friend. Someone who understands your struggle and will be there when it's time to celebrate your success! 
The advice provided is for informational purposes only. Contact a financial advisor for additional guidance.